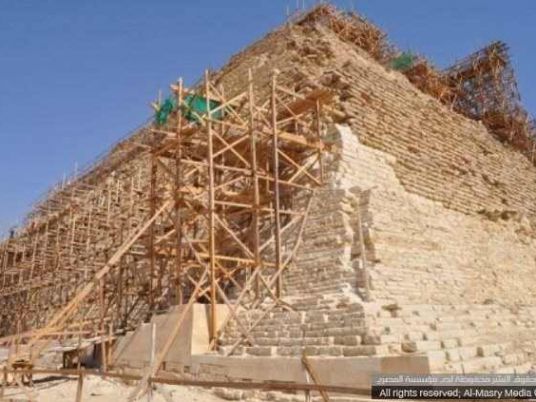 08/31/2014
Activists have launched an attack against the Minister of Antiquities Mamdouh al-Damaty after assigning a company that oversaw major deterioration and collapse of a section of the Saqqara Pyramid during its restoration.
Amir Gamal, representative of the 'Non-stop Robberies' movement said the minister ordered to resume the restoration of Saqqara pyramid by the same company that destroyed it before.
The company, called Shurbagy, has been working for nine years and has not been successful in any of the six projects it has worked on, he told Al-Masry Al-Youm adding that all are being investigated.
"The company has never restored any archaeological site. All projects it had were to create modern construction at archaeological sites," he added.
"Technically, the company and officials of the Supreme Council of Antiquities committed a full-fledged crime. New walls were built outside the pyramid as if the pyramid were a modern construction, which is opposite to international standards of restoration, which prevents adding more than 5 percent of construction to antiquities if necessary," he added.
"Adding the modern construction is a large pressure on the decaying pyramid, which threatens catastrophe," Gamal said.
The pyramid, which is more than 4,600 years old, was first built by the ancient Egyptians and was constructed from limestone for Pharaoh Joser, who ruled from 2686–2613 BC.
Six unequal steps form the pyramid, which is 62 meters high. Inside, the pyramid has a network of corridors and a granite and marble burial chamber.
In October 2012, the ministry said the restoration of the pyramid was stopped due to inability to pay for dues of the company in charge of restoration, before being resumed again.
Edited translation from Al-Masry Al-Youm