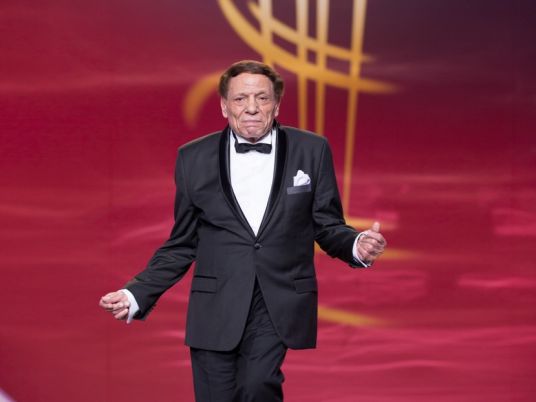 The play "Body Guard" (1999), starring Adel Imam, topped Google searches on Thursday, after its first and exclusive display via Shahid VIP streaming platform was announced.
The play is available for viewing starting February 26.
The Saudi Arabia General Entertainment Authority obtained the rights to show the play for the first time in 11 years, raising excitement on social media.
"Body Guard" was discontinued in 2010, after it had been shown for 11 consecutive seasons since 1999.
The play remained locked in drawers for 11 years after a number of unsuccessful negotiations to display it on television with producer Samir Khafagy, due to the high sale price he was asking for it.
Turki Al-Sheikh of the Saudi Arabia General Entertainment Authority finally obtained the rights to the play the end of last year.
Written by Youssef Maaty and directed by Ramy Imam, "Body Guard" is 180 minutes long and stars Adel Imam, late actor Ezzat Abu Ouf, Saeed Abdel Ghany, and Raghda.
While this its first time on a streaming service, "Body Guard" is the longest-running play in the Arab world. Its first showing was in 1999, and it immediately achieved unrivaled success.
The play has been staged in a large number of countries in the Arab world, including Morocco, Tunisia, the UAE, Algeria, Syria and Bahrain.
One year after the play was staged on the Haram Theater, actor Mostafa Metwally passed away, before the work was recorded on television. He was replaced by Mohamed Abu Dawood.
Actress Sherine Seif al-Nasr was replaced as well by Raghda for one year, before Nasr returned again and the play was filmed with her playing the role of the imprisoned businessman's wife.
"Body Guard" was Imam's last work on stage, after which he shifted to cinematic and television works. He returned to the stage in 2017, appearing in the play "Ahlan Wa Sahlan" (Welcome) alongside actor and singer Mohamed Ramadan.
"Body Guard" follows prisoner Adham as he makes a deal inside prison with businessman Saad, who is accused of stealing LE700 million. Adham works as a bodyguard for Saad's wife, who falls in love with Adham.
After a while, Saad discovers his wife's betrayal, and plots to get revenge.
Edited translation from Al-Masry Al-Youm