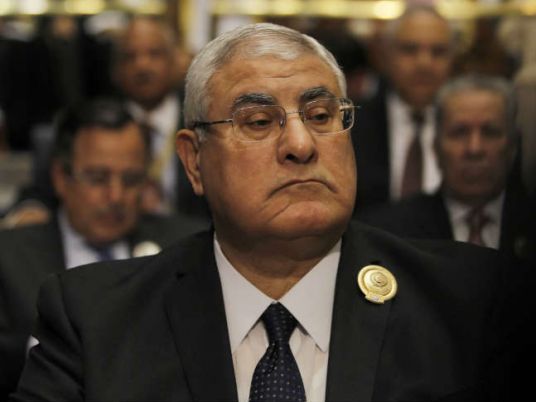 On the termination of his interim term, President Adly Mansour urged all Egyptian to unite in his farewell speech on Wednesday.
Mansour also said that Egypt's national security is threatened and that history will reveal the plots contrived against it.
He advised the Egyptians to learn a lesson from what happened to others. "Many countries around us have fallen and thousands of lives have been claimed," he said.
"Terrorism is foolish," he said. "It does not know Muslim from Christian nor mosque from church," he warned.
"Egypt will not retain its place regionally and internationally without reforming itself from the inside and upholding national interests over personal and partisan," he said.
He said that he was keen on safeguarding rights during his term. "Egypt does not deny her sons their rights," he said.
He said he is saddened by the prevailing state of moral degradation that contradicts the teachings of Islam and Christianity, adding that Egypt needs to alter its religious discourse to promote the values ​​of Islam and the meaning of compassion.
"Religious discourse must enlighten public taste and revive the cultural identity of the Egyptians that refuses intolerance and terrorism," he said.
Mansour praised the Coptic Christians. "You are an integral part of the nation's fabric," he said. "Sinai was quenched with your blood that mingled with the blood of Muslims on its soil."
Edited translation from Al-Masry Al-Youm