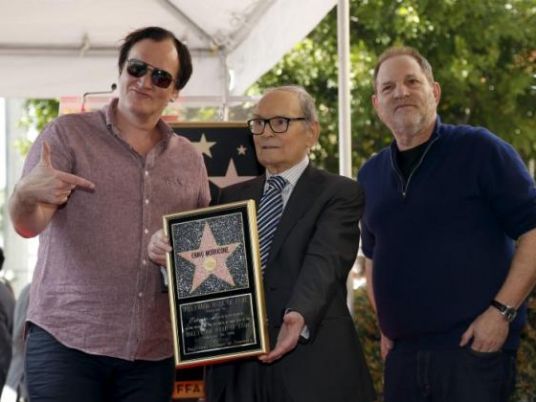 Italian film composer Ennio Morricone, nominated for an Oscar this year for his work on "The Hateful Eight," was awarded a star on Hollywood's Walk of Fame on Friday, honoring his diverse career spanning decades.
Morricone, 87, has composed the scores for more than 450 films, from 1960s Spaghetti Westerns including "The Good, the Bad and the Ugly" to Quentin Tarantino's frontier drama "The Hateful Eight."
"The international composers that had written in film, they have never had the pleasure that I have had today," Morricone said in Italian at Friday's ceremony.
The veteran composer is the frontrunner to win his first ever Oscar in the best original score race on Sunday, after five nominations in previous years.
"I never would have said it would be me, I never thought I would get it, when I would get it, if I would get it," Morricone said about his Oscar nomination.
Tarantino and Weinstein Company co-founder Harvey Weinstein were on hand to pay tribute to Morricone on Friday, with the director saying he had been a long-time fan of the composer.
"I had a huge record collection I'd been collecting since I was a kid and I realized I had more Ennio Morricone records than I have of anybody else," Tarantino said.
"This is one of the richest careers in our industry, who has brought so much joy," Weinstein added.
A Rome native, Morricone began his career as a film music composer in 1961 with "Il Federale."
He received an honorary Oscar in 2007 for "his magnificent and multifaceted contributions to the art of film music," working with directors such as Bernardo Bertolucci, Lina Wertmuller, Brian De Palma, Roman Polanski and Oliver Stone.
The composer most notably collaborated with Sergio Leone on the director's westerns starring Clint Eastwood, such as "A Fistful of Dollars," "For a Few Dollars More," and "The Good, The Bad and The Ugly."Additionally, he wrote the scores for "The Battle of Algiers," "Cinema Paradiso" and "Once Upon a Time in America."