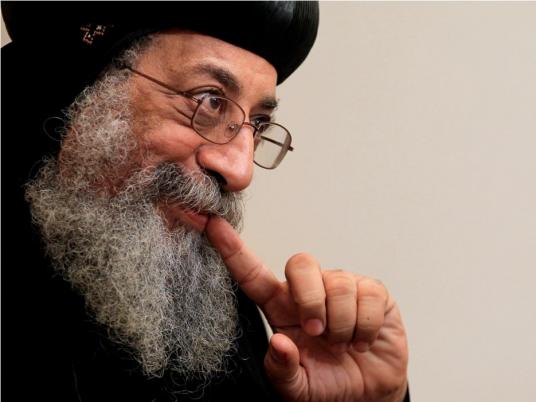 Al-Azhar Grand Sheikh Ahmed al-Tayyeb and Grand Mufti Ali Gomaa visited Pope Tawadros II Wednesday to congratulate him on being ordained as the 118th pope of the Coptic Orthodox Church.
"We came to offer congratulations to Pope Tawadros II over this high-ranking post and for Copts over their good selection, [and we hope] that God would enable him to confront the big challenges that Egypt has been facing recently," Tayyeb said. He also highlighted the role played by Al-Azhar and the Church in preserving friendly relations between Muslims and Copts.
Gomaa added, "We came to offer felicitations to the pope. This is the real Egypt. This is Egypt that will never die and always be dignified with its citizens."
Tawadros in turn welcomed Tayyeb, Gomaa and their accompanying delegation, saying, "The grand sheikh is a personal friend to all of us. We are [grateful for] his words and wisdom that express the moderation of Al-Azhar.
"We Egyptians are characterized by being moderate. Azhar embodies this spirit," he added.
During a press conference that followed the visit, Tawadros praised Tayyeb's "Family Home" project, which brings together Muslim and Christian scholars in a bid to resolve sectarian tensions.
"It's a pure Egyptian idea that shows the authenticity of Egyptians and resolves social problems," he said.
Edited translation from MENA