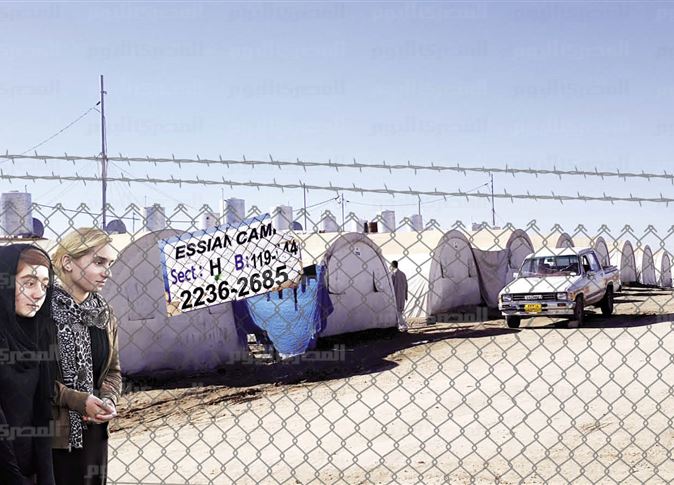 Yazidis are one of the smallest minorities in the world. They live in villages around the city of Sinjar, Iraq.
On August 3, 2014, as the women went out to work in the fields, the Islamic State attacked the villages around Sinjar, while the Peshmerga forces withdrew from the scene.
Yazidis are infidels in the eyes of the Islamic State. They were ordered to stay home, as Islamic State fighters were coming for the Peshmerga militants.
They believed them, but soon woke up to find that they had been kidnapped to be sold as slaves in the Syrian city of Al-Raqqah.
Explaining how the Islamic State sells women, those who escaped from the slave market told Al-Masry Al-Youm that they are all gathered in one place and each given a number. Then their pictures are taken and posted on WhatsApp for whoever is interested. Virgins cost more.
Islamic State fighters have kidnapped 3,339 Yazidi women, of which only 1,360 were able to return home by either escaping or being rescued. More than 500 of those who escaped are currently undergoing psychological treatment in Germany.
Rawya
Rawya gave herself an abortion following her rape and fled before being sold
A 17-year-old woman was the only one who did not mind us mentioning her name and showing her picture in our report. "I want the whole world to know what happened to me and other Yazidi women," she told us. But we decided to hide her eyes and to not use her real name. We call her Rawya in the report.
Perhaps it was her defiant eyes and not her beautiful body that excited Islamic State fighters into raping her.
She said that she and 45 of her family were captured by the Islamic State while trying to flee Sinjar.
She said there are so-called emirs among the Islamic State fighters. "They have long hair and they look vicious," she explained. "They took the good looking girls and put them all in a truck. Some were no more than seven years old."
"I was taken with others and put in some prison in Mosul," she continued. "They gave us one small piece of bread to eat per day, telling us that they feed us just enough not to die."
She said that she hid her 11-year-old brother from Islamic State fighters because they take the boys and train them to become fighters. "But they found him and took him away," she said.
She also said that she claimed her cousin was her husband because she had heard that they do not rape married women. "I was wrong," she said.
She said that she was taken with five other women to be put on display for six emirs whose names she remembers vividly. "They were called Abu Abdel Rahman, Abu Hozayfa, Abu Moussa, Abu Hamam, Abu Quteiba and Abu Abu Obeida," she said. "I was chosen by Abu Hozayfa. He raped me for four months."
She said that Abu Hozayfa used to take her to a doctor every month to see if she was pregnant. "When I got pregnant I aborted the baby without telling him," she said. "He yelled at me and beat me for killing his child. I told him I will not have the child of an Islamic State emir."
"He told me that he will sell me in the slave market and get another woman to replace me," she said. "I managed to escape to the mountain with a friend of mine called Manal, who had a mobile phone. My cousin, who knows the terrain well, led us on the phone to a meeting point from which we went to the city of Dohuk."
Jilana
Jilana was raped in front of her child
Jilana is 19 years old. She was preferred by the emirs because she is good looking. She was bought and sold by seven emirs for nine months. One of them raped her in front of her child.
"The first one who raped me was called Baqer. He did it in front of my child," she said. "He had five other women that he also raped. Sometimes he sedated us before he raped us, other times it was by force."
She showed us Baqer's picture on her mobile phone. He looked like a man in his 40s.
He sold her to another emir when he found out that she took a picture of him.
"I endured the rape because he held my mother and my brother captive," she said. "But I managed to escape one day to Kurdistan."
Aida
Aida
"Call me Aida," this 24-year-old woman told us, because she did not want to mention her real name. Hiding her face with a scarf, she started to tell us about her story while looking at her baby in her arms.
"I was abducted with my husband and my family," she said. "They separated the men from the women. They took more than 2,000 women to Tal Afar, 55 km away from Sinjar. We stayed there for 20 days before we were transferred to Mosul. They gave us raw rice to eat."
She said boys 7- to 15-years of age were taken to camps to train them as fighters. "They call them the 'Boys of Heaven'," she said.
Aida's husband and family are still prisoners of the Islamic State. She hopes they will return soon. She was threatened that her children would be killed if she did not accept getting raped. Today, she is waiting to travel to Germany for psychological treatment.
She said every emir buys six women for himself. "I was put with five other women in a prison under the ground," she said. "Three managed to escape, but I was afraid they would kill my children if I did so."
"I was taken to an emir called Abu Abdel Aziz," she continued. "I stayed with him for eight days. Then he gave me to another emir as a present."
"I stayed with the other emir for four months and four days. He was in his 40s. He had a 12-year-old girl that he used to rape in front of me everyday," she said.
"In the end, my uncle had to pay our kidnapper $20,000 to let us go," she said. "He dropped us on the border with Turkey."
Nisrin
Nisrin
Nisrin is 20 years old. When the Islamic State came to her village she claimed her cousins were her daughters so that they would not know that she is a virgin. "They prefer to rape virgins," she said. "They raped my 15-year-old sister."
She was taken to a man called called Mohamed. "He used to handcuff and beat me while raping me," she said.
Mohamed later sold her to a man called Abdel Rahman in Al-Raqqah. She stayed with him for six months. "One day I escaped as he was away fighting," she said. "His wife let me go."
Abu Shugae
Abu Shugae forms militia to bring back Yazidi women from the slave market
Abu Shugae al-Dani is a 40-year-old man who has formed a militia of 35 men to bring back Yazidi women from the slave market. His neighbors say that he does not fear death and that he is loved by both the Kurdish Muslims and the Yazidis.
The first rescue operation he did was in September 2014 when he freed seven women held captive by an Islamic State emir. "I have Muslim friends who inform me about the places Yazidi women are kept in," he said. "All 35 men working with me are Muslims and not Yazidis."
He said that he cannot buy women from the Islamic State to send back to their families. "He who sells his women back to their families gets flogged under Islamic State law," he said. "So we help them to escape from their places of detention. We have several ways of doing so, but I cannot divulge them until the last Yazidi woman is freed. We have freed only 400 out of 3,339 abducted women."
Edited translation from Al-Masry Al-Youm