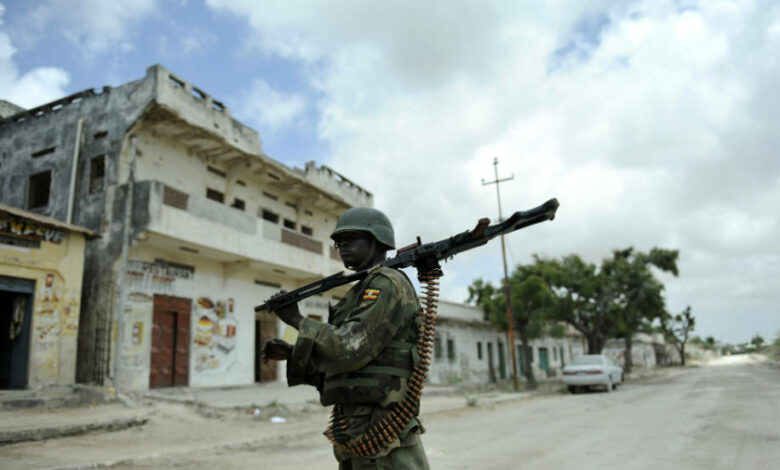 CNN
 —  Al-Shabaab fighters launched a deadly attack on an African Union military base in Somalia on Friday, with both sides reportedly suffering heavy casualties.
The militant fighters attacked a forward operating base in Buulo Mareer, about 120 kilometers southwest of Mogadishu, the African Union Transition Mission in Somalia (ATMIS) said in a statement.
The Islamist fighters used Vehicle Borne Improvised Explosive Devices and suicide bombers, according to the African Union.
Unverified images shared on jihadi media channels showed about a dozen Ugandan troops, with arms restrained behind their backs, being captured by the militants.
Soldiers from the Ugandan People's Democratic Army are stationed at the forward operating base as a peacekeeping force.
Uganda's Ministry of Defense Spokesman tweeted early Friday that there had been "an early morning attack on our troops" in Somalia by Al-Shabaab and that the Ugandan Defense Ministry was seeking more details.
Reuters news agency cited a Somali army captain saying both sides suffered heavy casualties, but it is unclear how many people were killed. CNN has reached out to ATMIS about the casualty numbers.
Following the clashes ATMIS reinforcements and allies were able to destroy the Al-Shabaab militants' weapons, the Somali army captain said.
The US State Department condemned the attack, confirming that Ugandan peacekeeping forces deployed to the African Union forward operating base were attacked.
"We express our deepest condolences to the victims' families and friends and wish a full recovery to those injured. The United States commends the bravery and sacrifice of the troops participating in this important mission. We stand with our Somali and African Union partners in the fight to defeat terrorism and to advance peace and stability for the Somali people," the State Department added.
The European Union also condemned the attack.
"This latest attack against soldiers conducting peace support operations in Somalia only reinforces our commitment to stand with the region and to hold to account those responsible for these continuously heinous assaults against Somali citizens and those seeking to stabilize the situation in the country," it said in a statement.
"Our thoughts and prayers go out to the families and military comrades of those affected."