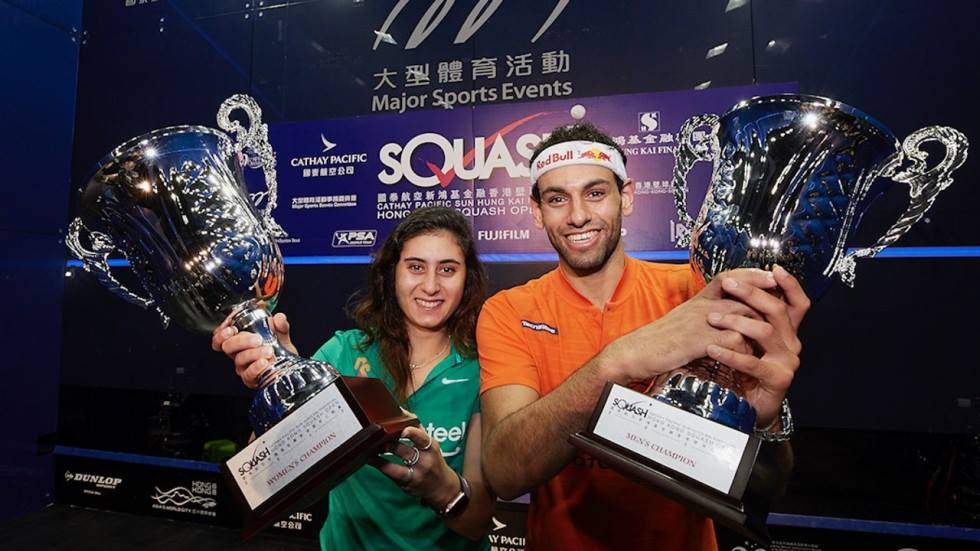 A new dynasty has emerged in the prestigious Hong Kong Open squash tournament with all-Egyptian finals.
Women's world-number one, Nour El Sherbini, took home the title as she stood against fellow her fellow countrywoman, Ranim El-Welily.
As for the men, it was a tight match between Ali Farag and Mohamed El Shorbagy, in which the latter emerged victorious.
El Shorbagy admits his matches with Farag are never easy, "we've played so many battles in the last few weeks and I want to congratulate him and all of his team."
The Hong Kong triumph marks a third successive title for El Shorbagy and the 29th in his career. He attributed his latest success to experience at the top level he reached his third World Series final this season.
El Shorbagy also emerged as the winner of the Qatar Classic just before his arrival in Hong Kong. Two successive titles in as many weeks will push him up to world number two in the men's rank, and the Egyptian is confident he is "on his way back to world number one", and achievement he first accomplished late in 2014.
Meanwhile, Nour El Sherbini considers her victory to be of particular importance, "it's my first World Series title in almost two years, so it's special," said El Sherbini.
El Sherbini hopes this title will serve as the spark to reignite her confidence, "this title was really important for me, so I hope I can get my confidence back and feel that I'm playing well before the World Championships. This tournament," she reflected, "has given me a huge push and I'm really happy to win the Hong Kong Open."
El Sherbini was on excellent form throughout the championship in the run-up to the final, where she defeated El-Welily with relative ease. The victory secured El-Sherbini's PSA women's world rank as number one, finally overtaking her Hong Kong finalist opponent and former world number one, El-Welily.
This is the tenth occasion an Egyptian man has won the Hong Kong Open, and the second for an Egyptian woman.