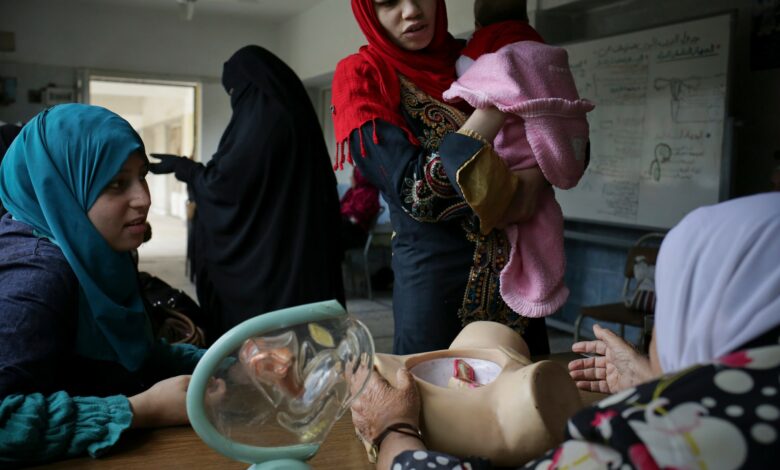 18,200 women have been given free health exams and treatment as part of President Abdel Fattah al-Sisi's 2019 initiative to support women's health in Egypt, Minister of Health and Population Hala Zayed announced.
She added, during a meeting on Tuesday, that there is no backlog of women waiting for treatment.
Zayed met with head of the Central Administration for Technical Support and Director of the Technical Office of the Minister of Health Nevin al-Nahhas to follow up on the initiative.
The meeting discussed its results over the past two years, with Zayed praising the project's speed in facilitating access to services for women, ministry spokesperson Khaled Megahed said.
Under the initiative, women undergo free routine examinations, and those that need it are referred to more advanced hospitals to perform x-rays, tests, and receive treatment. 
The program includes free testing for women over 18. Patients are tested for all sorts of health issues, including diabetes and blood pressure problems. 
Moreover, the campaign seeks to spread awareness of the risk factors of noncommunicable diseases, in information on reproductive health, family planning and healthy living.
According to Zayed, the initiative employs 28 laboratories, 78 mammography machines, 40 pathological analyzers, and 79 ultrasound machines.
The minister stressed the importance communication with program recipients, adding that about 1.5 million text messages were sent to mobile phones to remind women to monitor their health condition. The initiatives hotline has also received 34,683 calls since its inception.
Zayed praised the confidence of women participating in the initiative, stating, "[it] has become a shining light for women and achieved inspiring success stories for them."
Zayed instructed the further development and renovation of the former headquarters of the Supreme Committee for Medical Specialties in Giza's Al-Malek Al-Saleh to become a major center for the initiative, Megahed mentioned.
__
IMAGE: Egyptian women talk with a volunteer at a health clinic in Cairo about contraceptive options. Tara Todras-Whitehill for The New York Times