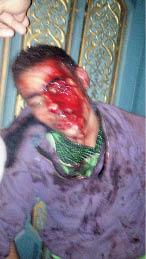 Dozens of young men have been learning to master the martial arts at a school run by the secretary of former Muslim Brotherhood Supreme Guide Mahdi Akef in New Cairo, Al-Masry Al-Youm has reported.
Coaches, aged between 20 and 40, gather at around 6 p.m. to train youngsters in Kung Fu and Karate. Young men can also learn how to fend off attacks with bladed weapons, the newspaper said.
Al-Masry Al-Youm reporters managed to record a video of one of the training sessions, which clearly shows one trainee attacking another with a wooden stick. The other man defends himself from the attack.
Training sessions were hosted on Tuesday and Friday last week at the Aal-Yasser charity centre in New Cairo, which was opened last year. The centre comprises a school, mosque and clinic.
Ahmed Gouda, who heads the centre, has meanwhile denied any knowledge of martial arts training at Aal-Yasser. He acknowledged he once worked as secretary for the Brotherhood's former Supreme Guide but claimed he left the Islamist organisation years ago.
Speaking via telephone with Al-Masry Al-Youm, Gouda claimed it was "impossible" that these lessons were being taught at Aal-Yasser.
Children come to the complex to learn Karate while some adults play football there for light exercise in the evenings, he said.
In December 2006 authorities arrested dozens of Muslim Brotherhood leaders and members after students at Al-Azhar University staged an on-campus martial arts demonstration in black suits.
In 2007, ousted President Hosni Mubarak referred them to military trial and in 2008, 25 of them received prison sentences ranging from 3 to 10 years on charges of money laundering and affiliation to a banned group.
Edited translation from Al-Masry Al-Youm