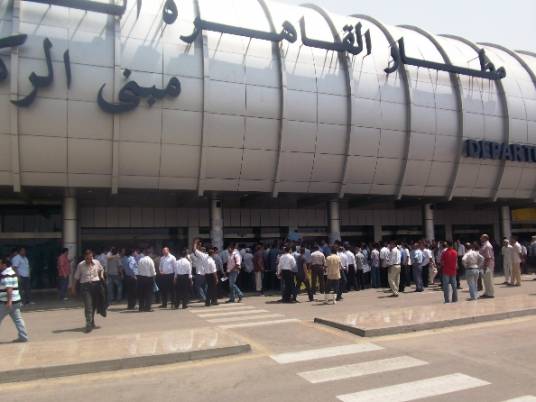 The Egyptian government is currently choosing between an American and British security company to assess security in Egyptian airports, said security adviser to the Holding Company for Airports and Air Navigation Mohamed Kamel on Wednesday, adding that a choice will be announced before the end December
Kamel said the company will be tasked with assessing the aviation security systems at airports across the country, which will include the assessment of safety and security procedures, equipment and providing training to airport staff in accordance with international standards.
He said the company will periodically assess security at Egyptian airports.
Egyptian airports and border crossings are shifting from a manual to an electronic registration database of travelers as a means of ensuring tighter security following the fatal crash of a Russian airplane in Sinai that killed 224 people in late October.
Informed sources told Al-Masry Al-Youm that data stored on more than 10,000 smart cards has been transferred to computers for use at the airports of Sharm el-Sheikh, Hurghada and Borg Al-Arab, as well as the Taba and Salloum land crossings. The sources noted that the change ensures easier and faster access to traveler data.
"The measure came after Interior Minister Magdy Abdel Ghafar, ordering a review of airports security procedures…found out that the registration of departing travelers was done manually," said the sources.
More devices that can detect explosives and search through luggage were added as part of the overhaul, according to the sources.
Egypt, among other countries, has been under pressure to reconsider its travel security measures after Russia and the United States said they were confident the Russian plane was downed by Sinai-based Islamic State-linked militants.
Edited translation from Al-Masry Al-Youm