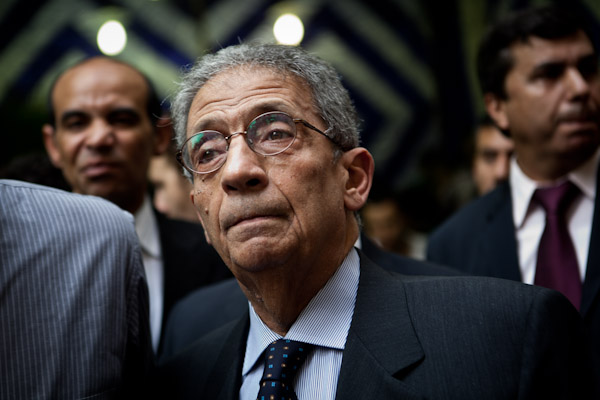 Americans support the regime in Egypt, the Egyptian Constitution and believe in the need to achieve stability, said Former Secretary General of the Arab League Amr Moussa.
Americans have an optimistic outlook toward Egypt, he added.
Moussa said that his visit to the United States came upon an invitation from the American Chamber of Commerce in Washington, to discuss the general situation in the Middle East, especially the economic one.
In a statement to the Middle East News Agency, Moussa said he stressed during the Chamber of Commerce meetings that there must be a comprehensive and integrated vision of the situation in the region which does not only depend on economic aspects but takes into consideration the political and revolutionary state currently taking place.
A general atmosphere of peace and stability in the region must be created and terrorism has to end, he added.
The region's problems are not only in Iraq and Syria, but also the situation in Yemen, Libya and Palestine has to be into consideration, according to Moussa.
Moussa said that he sensed a development in the Egyptian-American relations during his visit as he met with US Secretary of State, John Kerry during a working dinner.
The US and international communities want Egypt to restore its role to create a balance in relations with major countries in the region and to protect Arab interests, said Moussa.
The United States should work against terrorism in a real sense, meaning to look into its causes and work on combating the international and regional terrorism, said Moussa.
For the upcoming parliamentary elections, Moussa said he has not decided yet whether he would run the upcoming parliamentary elections.
The next House of Representatives has a great importance due to the laws it is supposed to issue.
He expected the next elections would be free due to popular interest and the feeling of the citizens that the matter affects their future. In addition there will be great interest in the elections on both international and regional levels, Moussa added.
Moussa hoped the upcoming parliament would include a large proportion of youth, women and Christians.
Edited translation from Al-Masry Al-Youm