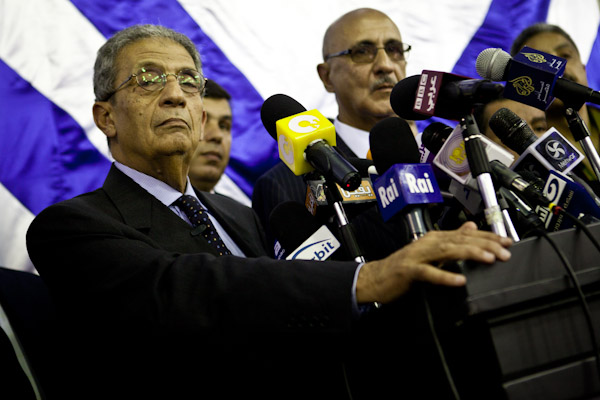 Amr Moussa, head of the Constitutional Committee of 50, has announced the creation of the Egyptian National Alliance document, which encompasses the shared values of several political forces.
"It is not just an electoral alliance," he said. "It will extend to coordinate with parliament with regards to legislation."
Talking to party leaders and members of youth movements on Monday, Moussa said the document, which was prepared by Amr al-Shobky, is comprised of eight items.
The first item states that Egypt is a civil state under a civilian rule and with civilian assets, and that the articles of the Constitution relating to legislation rights, administration and the separation of powers are to be respected.
The second item supports the new legitimacy produced by the roadmap, protects the Constitution and its complementary laws, respects democracy, the transition of power, human rights, public freedoms, and social justice and fights corruption.
He said the election law allocates 120 seats in parliament for list-based candidates and the rest for individual runners. "The alliance strongly supports individual runners," he said, calling on list candidates to make sure their lists include qualified and talented nominees.
Moussa concluded by warning of what he called political fragmentation. "Everybody should unite in one frame," he said.
Edited translation from Al-Masry Al-Youm