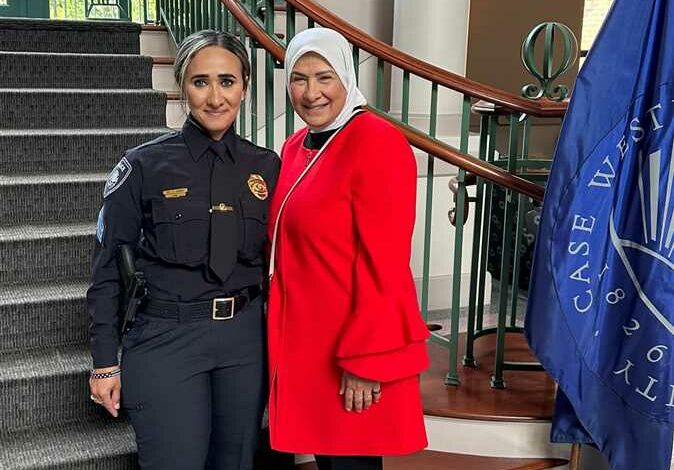 A few days ago, Egyptian-American Sarah Shendi took an important step by becoming the first Egyptian Muslim police sergeant to serve in the US police service, setting an example for others like her.
Shendi on May 24 took the constitutional oath with the Case Western Reserve University Police Department, Ohio, US.
Ohio has approximately 3,200 officers. Shendi joined them as the first Arab Muslim woman to hold the position of sergeant.
She had previously served with the Copley Township Police, and Ohio Governor Mike DeWine appointed her as the first director of the law enforcement and employment office in the state of Egyptian-Muslim descent.
The decision was warmly welcomed by the Arab community in the US, which in turn suffered for decades from marginalization due to the terrorist attack of September 11.
Shendi's new rank marks a step forward.

She was born in Saudi Arabia and lived between Saudi Arabia and Egypt until she reached the age of six, and her family moved to the US in 1991.
Q: Why did you choose to be a policewoman?
A: Since we moved to the US in 1991, I have always been fascinated by law enforcement here in this country, especially because it's so different from anywhere else in the world. I also fell in love with the uniform, and I always wanted to help others.
From my point of view I think it is the best job on the planet.
Q: What are the biggest issues that you faced on your way to becoming a policewoman?
A: I have learned that your greatest enemy is yourself and what goes on in your mind. I wish I had believed earlier in my life in this wise saying, then I would not have wasted so much time, doubting my decision, or trying to please others.
This is the secret of happiness and success in life.
Q: How difficult is it to be a Muslim woman in Western society?
A: Being a Muslim woman is difficult anywhere whether in a Western or Middle Eastern society. Women face special and unique challenges. Everywhere we go. I like to say pressure is a privilege. I'll take a good challenge any day of the week. I believe in leading by example and doing the right thing. The rest is up to God. Always be confident, wise, honest and honorable.
Q: Usually, Arabs living in a foreign country face an identity crisis – did you?
A: I don't really have an identity crisis because I've been living here for almost 30 years, I feel at home here in the US, and when I go to Egypt I feel at home there too.
I just love being around good people, I preferred being in the Middle East when I went on vacation last October because I love seeing mosques everywhere and hearing the call to prayer when it's time to pray.
But I can't say I've had an identity crisis. I am who I am, no matter where I live.
Q: Being a policewoman is risky. How did your family deal with your decision?
A: My family has been supportive of anything I choose to do since day one. They may not have welcomed my decision at first, but they still supported me. Then they saw how good I am at my job, and how much of a difference I make to the lives of the people around me. They started to understand why I love what I do.
Thank God I have the most amazing family and they have been so supportive in all my good and bad days.
Q: Did your family make sure that you speak Arabic since you speak the language well?
A: I think speaking Arabic is very important. My dad wouldn't let us speak English at home growing up here in the US. At the time I didn't know why, and I used to get resentful sometimes, but now as an adult, and being in law enforcement, I appreciate it so much because it allowed me to help so many people.
Q: Are there Egyptian customs that you adhere to in your family?
A: Although we have lived in the US for more than 30 years, we adhere to many cultural practices and do our best with our religion. I am proud to be Egyptian, proud to be Muslim, and also proud to be American. I love Egyptian culture and the Islamic religion and in my opinion this is what makes me a good policewoman.
Q: Have you ever been to Egypt on a visit with family?
A: The last time I went to Egypt with my family was about ten years ago or more. My sister chose to have her wedding in Egypt and it was a wonderful time with my family. We haven't traveled together as a family since then, but I do go on vacations sometimes.
Q: What do you like most when visiting Egypt?
A: I love being around people who speak my language and have the same religion as mine. I feel at home when I visit Egypt. I also love hearing and speaking Arabic, seeing nice and kind people everywhere you go, I also love Egyptian food and landscapes. I am very proud of Egypt because it is where my parents were born and raised and they are the real reason I am where I am now.
Q: Are there specific Egyptian foods that you like very much?
A: I love my mom's cooking the most. I love beans a lot and I also love koshari. I think Egyptian food is the best middle eastern food there is, and of course my mom is the best cook in the world.
Q: Do you follow any dramas in Egypt or about Egypt?
A: I don't watch any Egyptian TV. But I listen to Egyptian singers like Amr Diab and Tamer Hosni.
Q: From your experience, what advice you would like to give to women in general?
A: Be yourself, be confident, and don't give in to the pure pressures around you. We are surrounded by so much fakery on social media, on TV and in the entertainment industry, everyone wants to tell you what to wear, what to eat and drink, and how you are supposed to look. I would never listen to any of that because it's not real advice, and it's not healthy.
You will never find happiness through others. True happiness comes from within, knowing you are good enough. I will tell everyone in general to always work with pure intentions.
Religion is also very important to me and I always tell young people not to miss prayers for any reason. We get the chance to talk to God at least five times a day and this is not something we should take for granted. It's a privilege.
Edited translation from Al-Masry Al-Youm