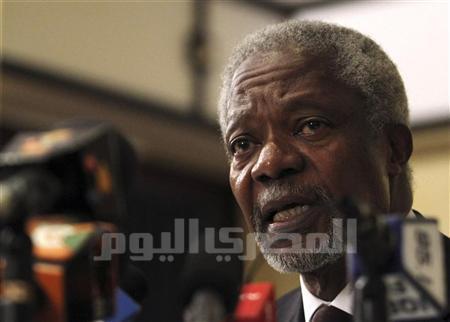 U.N.-Arab League envoy Kofi Annan has received a response from Syrian President Bashar al-Assad to his mediation proposals for ending the country's violence, but he is seeking answers to outstanding questions, Annan's spokesman said on Wednesday.
The former United Nations secretary-general, who met Assad in Damascus last weekend, outlined steps that needed to be taken, including a halt to fighting, humanitarian access and starting a political dialogue with the Syrian opposition, spokesman Ahmad Fawzi said.
"The Joint Special Envoy (JSE) for Syria, Kofi Annan, has now received a response from the Syrian authorities. The JSE has questions and is seeking answers," Fawzi said in a statement issued by Annan's office in Geneva.
"But given the grave and tragic situation on the ground, everyone must realize that time is of the essence. As he said in the region, this crisis cannot be allowed to drag on," he added.
A Syrian foreign ministry spokesman said Syria had given a positive response to Annan's proposals.
Annan is to brief the Security Council on Friday.
The U.N. says Syrian forces have killed more than 8,000 people in an uprising against Assad that has uprooted 230,000. The government says foreign-backed militants are responsible for the deaths of more than 2,500 members of the security forces.
Fawzi declined to comment on the exchange between Annan and Syrian authorities.
However, he told Reuters: "He (Annan) proposed detailed steps that should be taken to achieve a situation on the ground that would be conducive to political dialogue and above all to stop the killing and suffering of the Syrian people. He received responses to those proposals."
"There were specific responses to specific questions."
Annan is setting up his small team at the U.N.'s European headquarters in Geneva, where he is to be joined by his deputy Nasser al-Kidwa, a Palestinian diplomat appointed last week.
Intensifying Assault
Forces loyal to Assad attacked rebel strongholds in various parts of Syria on Wednesday, intensifying their assault as the uprising entered its second year with a negotiated solution as far off as ever.
Annan also met Syrian opposition figures and held talks earlier this week with Turkish Prime Minister Tayyip Erdogan. Later he met the Arab League chief and the foreign ministers of Russia and Saudi Arabia in Cairo.
Fawzi said on Monday that Annan was at the beginning of a process which he felt was on the "right track".
The world body and U.N. aid agencies have been shut out of Syria, where the International Committee of the Red Cross (ICRC) is the only international agency to deploy aid workers.
U.N. humanitarian chief Valerie Amos was in Syria last week to demand unhindered access for humanitarian aid to victims, but said she won agreement only for a "limited assessment exercise" to be carried out with Syrian authorities.
The ICRC appealed on Feb. 21 for a daily two-hour humanitarian ceasefire in Syria and had "positive responses" from the government and opposition at first, but it has not been implemented, ICRC spokesman Hicham Hassan said on Wednesday.
"There is a need to implement this pause urgently. We need now to discuss with all sides the practical aspects of our initiative in order to obtain more concrete and immediate results," Hassan told Reuters.
Activists and the government have traded blame for a massacre in the city of Homs, where dozens were killed in cold blood while Annan was visiting the country.
The ICRC and Syrian Arab Red Crescent continue to provide food and other aid to people in violence-hit areas, including Homs, Hama, Idlib, Deraa and rural Damascus, Hassan said.
"In Homs and Idlib and other areas affected by the unrest there are reports of people being killed and injured every day as a result of the fighting," he said.
The Syrian Red Crescent is providing medical care to the sick and injured in both cities and elsewhere, and evacuating those needing further attention to health facilities.
"For some of the injured, access to medical care is hard, if not impossible," Hassan added.