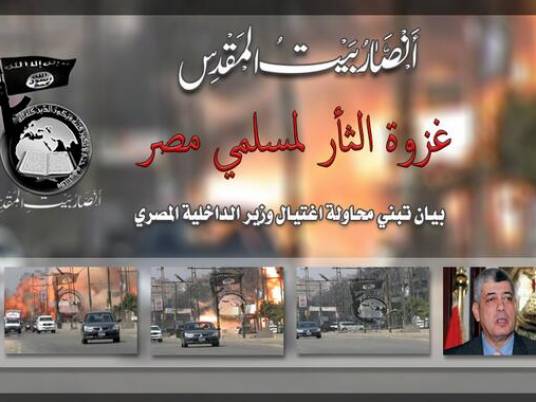 Sinai-based jihadi group Ansar Bayt al-Maqdis revealed the identity of its member behind the attack on South Sinai security directorate building on 7 October, leading to the death of five soldiers and the injury of 50 others.
The attacker, Abu Hajer Mohamed Hamdan, from the Sinai-based Sawarka tribe, said in a youtube video posted by the group, "I felt as I'm going to the martyrdom operation that I'm going to God."
"I only decided to do the mission for the victory of the religion of God and to revenge our brothers, the Mujahideen, against the infidels and tyrants."
The group vowed to continue on their "jihad" until victory, and defeating the "infidels"
The Video began with pictures of the late President Anwar Sadat shaking hands with Menachem Begin, former the Israeli prime minister, and beside them US President Jimmy Carter, in conjunction with sound clips saying that the Muslim countries have become [the property] of the people of infidelity, and Jerusalem has been lost for 50 years."
The video also featured Sinai demos and protestor being shot, in addition to the police dispersal of pro-Morsy Rabea al-Adaweya and Nahda sit-ins.
Ansar Bayt al-Maqdis criticized the Secretary General of the Nour Party Galal al-Morra for supporting the "coup" against Morsy, and Salafi-leader Yasser Borhamy for standing next to a pastor .
The video displays the image of the car used in the attack, loaded with a number of butane cylinder.
Ansar Bayt al-Maqdis had also claimed responsibility for the assassination of state security officer Mohamed Mabrouk on Tuesday and the previously attempted assassination of Interior Minister Mohamed Ibrahim in September.
Edited translation from Al-Masry Al-Youm