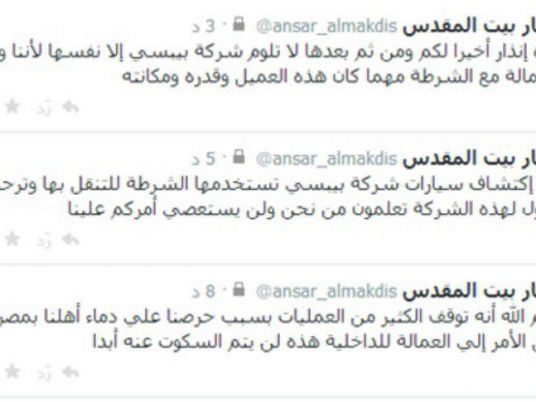 The Ansar Bayt al-Maqdis group on Friday threatened to attack Pepsi Cola for allegedly allowing the Interior Ministry to use their company vans to transport detainees.
"You know who we are and what we can do," the group addressed the company on Twitter. "This is the last warning and you will only blame yourselves. By God, we will not tolerate working with the police whatever the client, the amount and status."
A picture circulated Twitter last month of a detainee transport van from the Interior Ministry, painted red with the Coca-Cola company logo on the side, as if it were a official company supply truck. It is not clear if the incident is related to the recent threat from Ansar Bayt al-Maqdis, as the two are separate companies. It also remains unclear the reason for the Interior Ministry to seemingly disguise the transport vans.
Edited translation from Al-Masry Al-Youm