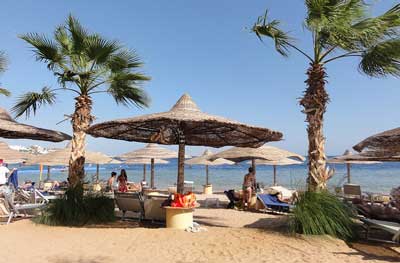 Egypt witnessed a significant increase in numbers of Arab tourists visiting the country, in line with the ministry's efforts to encourage Arab tourism, Tourism Minister Rania al-Mashat said.
During a meeting on Thursday with Dina al-Zaher, director of the Transport and Tourism Department at the Arab League, Mashat said that the Arab League plays a major role in enhancing relations between Arab countries to address all their problems.
Zaher said that the Arab League has a great desire to enhance cooperation and coordination with the Tourism Ministry to establish through establishing many events to promote tourism during the coming period, especially that tourism is a fundamental pillar to support the economy in a number of Arab countries.
Ramy Rizkallah, chairman of Sharm el-Sheikh Resort Promotion Committee, said the average occupancy rate of hotels in the resort currently stands between 50 and 60 percent. The ratio is expected to increase in early July, he said.
Rizkallah added that some major hotels decreased prices to US$15 a night to raise occupancy rates.
He called on the Egyptian government to counter the phenomenon of decreased prices which negatively affect the reputation of Egyptian resorts. He suggested imposing a tax on the 5-star hotels, where an average price of a room per night should be $50.
Rizkallah explained that the Saudi tourists currently represent the largest percentage of tourists in Sharm el-Sheikh, expecting an increase in the influx of tourists from the Ukrainian market at the beginning of July.
Hotels will have to raise prices in general, due to the increase in energy prices, he said.
Meanwhile, chairman of Alexandria Chamber of Travel Agencies Ali al-Manesterly called for the need to market tourism to the city in tourism stock exchanges and international forums and conferences.
The Catholic Church is preparing for the inauguration of the Sayyedat al-Intiqal (Lady of Transition) Church in Deir Daranka after its renovation as it will be visited by Christian tourists on their journey to the Trail of the Holy Family in Egypt.
Father Hany Bakhoum, spokesman for the Catholic Church, told Al-Masry Al-Youm that Archbishop of Assiut Kyrillos William has received a delegation of 31 German tourists who will take part in the inauguration of the Lady of Transition Church on Sunday.
The delegation visited a number of archaeological religious places on the Trail of the Holy Family in Assiut.
Assiut governor announced that he allocated LE18 million, in coordination with the Ministry of Transport, to start the maintenance and paving of roads on the Trail of the Holy Family.
Edited translation from Al-Masry Al-Youm