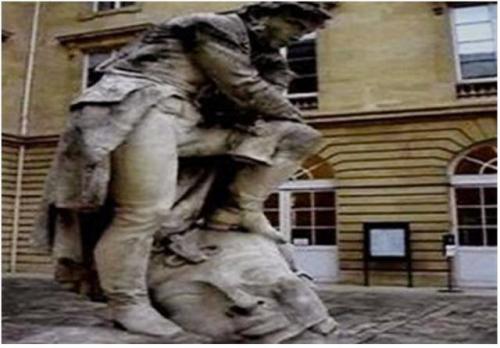 Archaeologists issued a statement slamming a statue in the courtyard of the College de France showing the French Egyptologist Jean Francois Champollion standing with his foot on the head of a Pharaoh, saying it is derogatory toward Egyptian civilization.
"The Foreign Ministry did nothing about it," said Omar al-Hadary, chairman of the Tourism and Antiquities Committee of the Revolutionary Youth Federation on Thursday. "The West will repeat such things if there is no firm reply."
"This will make us hate the West more," he continued. "The French learned a hard lesson during their campaign that Egypt gained independence with the blood and lives of its sons."
"The French government must remove this shameful statue or we will make thousands of insulting statues to put in all squares of Egypt and outside the French Embassy," Hadary added.
The chairman asked the Ministry of Antiquities to stop all French archaeological missions working in Egypt until a formal apology is issued and the statue is removed. He also requested that all streets named after the Frenchman be renamed.
Champollion famously deciphered the ancient Egyptian hieroglyphics on the Rosetta Stone that was discovered by the French colonial campaign in the beginning of the nineteenth century.
Edited translation from Al-Masry Al-Youm