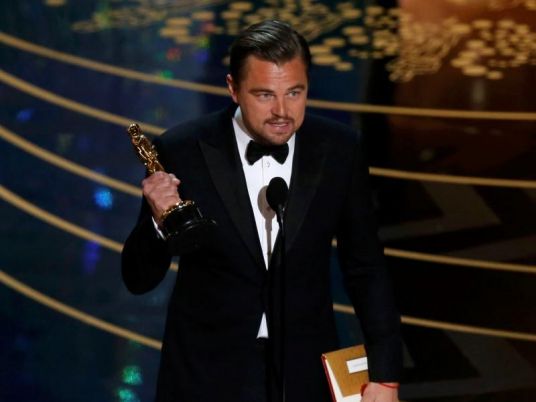 Giorgio Armani wrapped Milan Fashion Week on Monday with a fall collection for his main line dedicated to luxurious black velvet.
The 81-year-old Italian, whose designs were worn by Oscar winner Leonardo DiCaprio and nominee Cate Blanchett at Sunday's Academy Awards, made the material the protagonist of his autumn/winter 2016/2017 line, using it in trousers, tops, coats and glittering evening wear.
Models stepped onto the catwalk in round collared black velvet jackets paired with wide leg trousers.
Show notes said Armani has "always loved this material for its subdued, intense splendor".
Jacquard jackets with dabs of pale pink and blue added color, as did a selection of floral designs — knit suits, silky trousers, tunic tops and chiffon dresses — later sequined with sparkles for the evening.
Armani also mixed other textures to all black outfits, including satin, fringes and ruffles on jackets worn with velvet trousers.
Black lacquer collars were added to velvet evening jackets while strapless gowns fit for the red carpet mixed black velvet with lace and sparkling black embroidery. Among footwear, there were nude fishnet ankle boots with black toe caps.
For the finale, Armani, who also used black as the basis color for his Emporio Armani line unveiled on Friday, presented a black halter neck top, slit at the waist with black trousers under a black tulle cape.
At Missoni's show on Sunday night, designer Angela Missoni presented plenty of colorful knits that were layered together — jumpers, short dresses, floor-length scarves and hats in the brand's well-known bold stripes and zigzag patterns.
In a collection described as "lean, long and leggy", there were chunky cardigans in plaids and colorful stripes over similarly kaleidoscopic short dresses and leggings. There were also similar outfits in black and white.
For the evening, Missoni offered colorful plisse maxi dresses, at times worn over long-sleeved tops, as well as matching cardigan and long loose trouser combinations that glittered in silver and gold.
One black evening jacket had shimmering fringes. Models wore colorful heels and boots as well as sports shoes, adding a relaxed feel to the lines.
Milan now passes the autumn/winter 2016/2017 catwalk baton to Paris, which starts its shows on Tuesday.