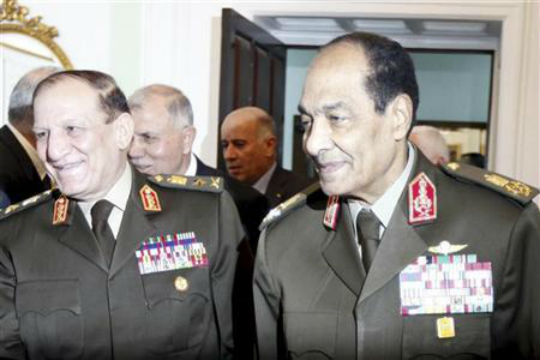 Field Marshal Hussein Tantawi, head of the ruling Supreme Council of Armed Forces, said Saturday that the armed forces will hand over power to an elected civilian president and guarantee the drafting of a constitution that pleases all Egyptians.
On the sidelines of the maneuver "Badr 2" by one of the formations of the Third Field Army on Saturday, Tantawi said "The armed forces are well, and they are the backbone of Egypt. The days and history will prove that and demonstrate to all the efforts exerted by the armed forces in the present stage."
He added: "We all work together for the sake of Egypt, which has not yielded to anyone or to a particular group, but will be for all Egyptians, according to the popular will."
He said the armed forces will continue to cooperate with other countries to develop its equipment, adding: "We will not antagonize states and will not allow the antagonizing of any state just for the sake of enmity, but will confront only those who antagonize us."
"We are working to update our equipment in all areas, and we have a diversity of sources of arms from the east and west," he announced, saying that the armed forces is currently working on the development of the air defense system and the development of naval forces in cooperation with Germany.
He said: "We are cooperating with other countries for the benefit of Egypt, without interference on their part in our will and our policy."
Tantawi said the armed forces are aiming to match the highest technology levels, and that Egypt has many companies and engineers capable of the work.