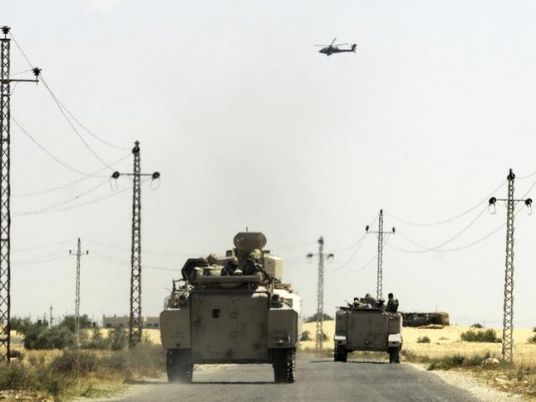 Egypt's armed forces has killed at least 115 suspected militants were eliminated by the armed forces in North Sinai in April alone , the army spokesman announced on Saturday.
Spokesman Mohamed Samir said in a statement that the army killed 29 suspected militants in raids on North Sinai from April 20 to 30, also arrested 27 wanted personnel and 106 suspects. Fifty-one "terrorist" headquarters were also destroyed, Samir added.
North Sinai's Sheikh Zuweid alone witnessed the death of 22 suspected militants. Security forces shot at a truck whose passengers were allegedly attempting to target a security checkpoint, killing all four of them, Samir said.
Fifteen more suspected militants were killed in security raids on "terrorist" meeting points in Sheikh Zuweid, Samir said. One "terrorist" was killed when an explosive device he was trying to plant went off, and two more "terrorists" died in cross-fire with security forces.
The remaining seven suspected militants were shot and killed by army forces in Rafah while allegedly attempting to assault security forces in the area, Samir said.
Militancy inside Egypt has seen a significant rise since July 2013, with the military ouster of Islamist President Mohamed Mursi, following mass protests against his rule. Most attacks target security forces in North Sinai.