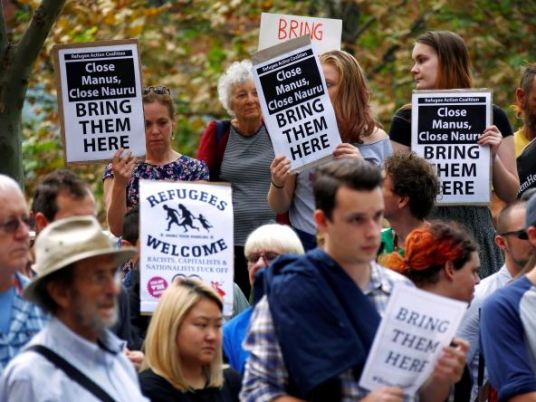 Australia blamed refugee advocates on Tuesday for "encouraging" asylum seekers held in remote camps towards acts of self-harm after a woman set herself on fire, while the United Nations renewed its criticism of Australia's harsh immigration policy.
Australian officials said an unidentified 21-year-old Somali woman was in a critical condition after she set herself alight at an Australian detention camp on the tiny South Pacific island of Nauru on Monday, the second such incident in a week.
A 23-year-old Iranian man also set himself on fire last week in protest against his treatment on Nauru and later died. The Somali woman has been transferred to Australia for treatment, officials said.
Under Australia's hardline immigration policy, asylum seekers intercepted trying to reach Australia after paying people smugglers are sent for processing to camps on Nauru, which holds about 500 people, and on Manus Island in Papua New Guinea. They are told they will never be settled in Australia.
The Papua New Guinea government ordered the Manus Island camp, which holds about 850 people, closed last week after its Supreme Court ruled the facility unlawful.
The harsh conditions and reports of systemic child abuse at the camps have drawn wide criticism inside and outside Australia and have become a major headache for Australian Prime Minister Malcolm Turnbull during campaigning for likely July elections.
Australia however has vowed there will be no change to the policy, which has been pursued by successive governments.
On Tuesday, Immigration Minister Peter Dutton acknowledged there had been a rise in cases of self-harm in the camps but accused refugee advocates of giving the asylum seekers false hope they would one day be settled in Australia.
Her said some advocates were "encouraging some of these people to behave in a certain way".
"The recent behaviors in Nauru are not protests against living conditions. They aren't protests against health care, they aren't protests against the lack of financial support," Dutton told a news conference in Canberra.
Immense damage
However, the peak UN body for refugees said such incidents in the camps, which hold asylum seekers fleeing violence in the Middle East, Afghanistan and South Asia, were a result of Australia's tough offshore detention polices.
"These people have already been through a great deal, many have fled war and persecution, some have already suffered trauma," the office of the United Nations High Commissioner for Refugees in Australia said in a statement.
"The consensus among medical experts is that conditions of detention and offshore processing do immense damage to physical and mental health," it said.
A boat believed to be carrying asylum seekers from Sri Lanka had been intercepted near the remote Australian Indian Ocean territory of the Cocos Islands, the Australian Broadcasting Corporation reported later on Tuesday.
If confirmed to be carrying asylum seekers, it would be the first such vessel to have arrived in Australian territory in almost two years.
A spokeswoman for Dutton's office refused to confirm or deny such a vessel had been intercepted.
The number of asylum seekers trying to reach Australia is small compared with those arriving in Europe, but border security has long been a major political issue and will almost certainly feature prominently again in elections likely to be held in July.