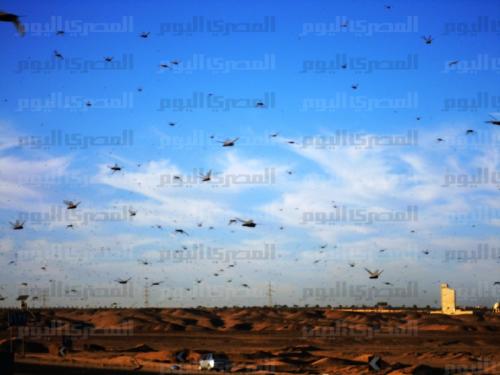 The Ministry of Agriculture has detected new swarms of locusts that crossed the Egypt-Sudan border Tuesday morning, presumed to be heading to Lake Nasser in Aswan.
The new swarm is 12 km long and 200 meter wide, with a speed of 15 km per hour.
Mohamed Tawfiq, an adviser to Agriculture Minister Salah Abdel Momen, said combat efforts had concluded at Beir al-Abd in North Sinai, Kasfarit in Ismailia, Ganifa in Suez, and the Arish International Airport. He added that technical teams continue to comb all areas in Sinai, and that swarms are now heading to the east.
The ministry said on Monday it had eradicated 95 of locust swarms.
The swarms first appeared on 8 November 2012, currently continuing their seasonal migration to vernal reproduction areas at the Red Sea coasts.
Nearly 17,452 locusts were exterminated in the combat process, according to the ministry.
Edited translation from Al-Masry Al-Youm