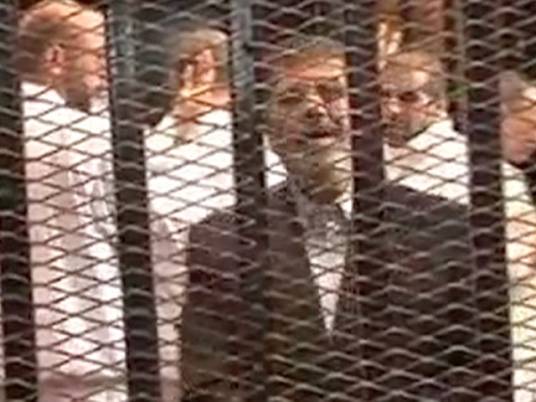 Deposed President Mohamed Morsy will be entrusted to former presidential candidate Mohamad Selim al-Awa to be his lawyer during his trial in the Ettehadeya Presidential Palace case, according to Mohamed al-Damaty, a member of Morsy's defense committee.
"The Committee settled to have Awa as its head," said Hassan Saleh , another member of the Morsy's defense committee. "Choosing Awa is our final decision."
Awa's task will be to appeal the court's lack of jurisdiction to try Morsy, as he is still the president of the republic, in accordance with Article 152 of the inactivated constitution, Saleh added.
Morsy was reported to have arrived to the court on board a military aircraft, but it was later revealed his flight was delayed and t
he court session was pushed back to 1 February.
An international legal delegation had arrived to attend the trial of Morsy, including American lawyer Curtis Francis Doebbler, who is a specialist in international law, and was a member of the defense team of late Iraqi President Saddam Hussein.
The delegation also included South Africa lawyer Shabnam Mayet, who holds her country's opinion against ousting Morsy; American Lawyer Bruce Douglas Nestor, and Belgian lawyer Georges Henri Beauthie, who filed in August 2010 a lawsuit against 14 Israel's political and military leaders for crimes against humanity in late 2008 and early 2009 in the Gaza Strip .
The international legal delegation arrived on Wednesday morning to the vicinity of the Police Academy, in which the trial is held, waiting for permission to enter the court, according to the statement made by the coordinator of the delegation to the Turkish news agency Anatolian Agency .
Edited translation from Al-Masry Al-Youm