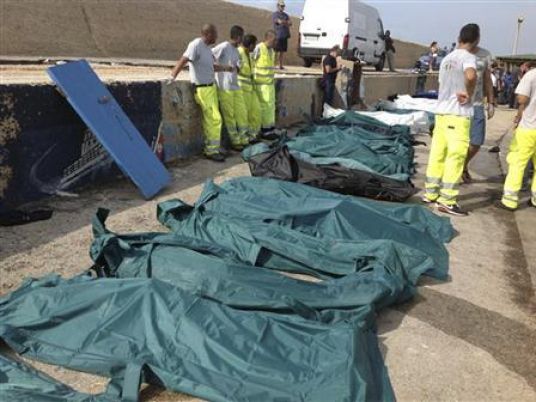 Cairo Criminal Court has adjourned trial of deposed President Mohamed Morsy and 132 other suspects to 22 February in the lawsuit of breaking into prisons during 25 January 2011 revolution upon defense request to talk to Morsy.
Turkish news agency Anadolu posted on Twitter saying that the session was delayed as Morsy did not want to enter the cage.
Despite the court earlier announcing the session would be aired on live TV, the session was not broadcast at the beginning, although the trial had already begun.
State-run TV only broadcast breaking news over the trial like, arrival of the court panel and start of the session
The first channel had phone calls with its correspondents before the court held at Police Academy.
News reports quoted Safaa Hegazy, head of news sector, as saying that state-run TV will broadcast the trial after the session ends.
During the session, Morsy addressed Shaaban al-Shamy, the court president asking "Who are you?" Shamy responded saying,"I'm the president of Egypt's Criminal Court."
The state TV showed later parts of the trial including entrance of Morsy, Mohamed Saad al-Katatny, chief of Freedom and Justice Party, Essam al-Erian, vice-chief of the party and Hamdy Hassan, Muslim Brotherhood figure.
Katatny was seen while signaling before the camera and saluting the attendees. The TV also showed prosecution reading names of the suspects.
Muslim Brotherhood were completely absent in the vicinity of the Police Academy in New Cairo before the first sesson was scheduled to begin of the trial for Morsy and a number of leaders of the Muslim Brotherhood in the trial of breaking into prisons.
Security forces imposed a security cordon at the beginning of the street leading to the gate number 8 of the academy, allocated to the entry of journalists, media personnel and lawyers. Vehicles were prevented from entering the street for fear of bombings.
A number of policemen ascended the buildings overlooking gate 8 for security.
Security sources said Tuesday that the Ministry of Interior in coordination with the Ministry of Defense transferred toppled President Mohamed Morsy by helicopter to the headquarters of his trial at the Police Academy, in order to start the first session of his trial in the case of storming prisons during the revolution of 25 January.
Morsy and 132 other who belong to the Islamic resistance movement Hamas, Hezbollah, and the Muslim Brotherhood stand trial on charges of storming 11 prisons, attacking police stations, abducting 4 police officers in February 2011 .
Sources told Al-Masry Al-Youm that the security plan required the transfer of the accused in the early hours of morning , because of the security situation.
The security forces tranferred Morsy and other prisoners in the previous session charged with the killing of demonstrators at the Ettihadeya Palace at 1am.
Edited translation from Al-Masry Al-Youm