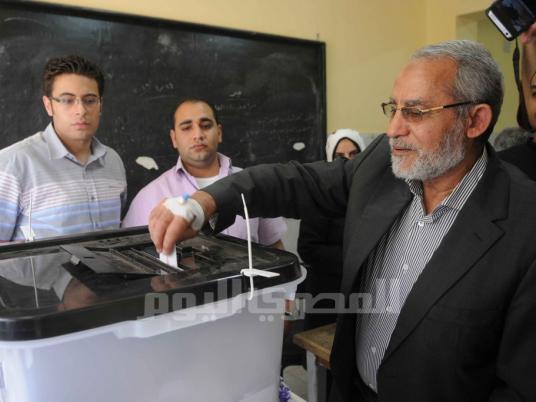 Muslim Brotherhood Supreme Guide Mohamed Badie took to Facebook on Friday to spur the nation to vote "yes" for what he calls "the greatest draft constitution Egypt has ever known" in tomorrow's constitutional referendum.
"To the great Egyptian people, we have always known you to be positive during the revolution, during the 2011 constitutional declaration referendum and the parliamentary election in 2011. You were also positive in the presidential election. We expect your participation in this referendum to be even greater, because this referendum will create the path for us, our sons and grandchildren," Badie wrote on his Facebook page.
"The chance has come for you to grant yourself a constitution that organizes your life, proves your sovereignty and raises your dignity high above. This constitution was drafted by the Constituent Assembly that you elected indirectly. It exerted huge efforts to draft it. It offered it up to social dialogue six times over almost six months, so it would near perfection, even though humans cannot achieve that. Thanks to God, we have the greatest constitution Egypt had ever known," he continued.


The first round of the constitutional referendum is set to take place on 15 December in 10 governorates, including Cairo. The second round is scheduled for 22 December for the rest of the nation.


The draft constitution has proven divisive, and has been highly criticized by secularist opposition forces for not being representative of the country as a whole. 


Edited translation from Al-Masry Al-Youm