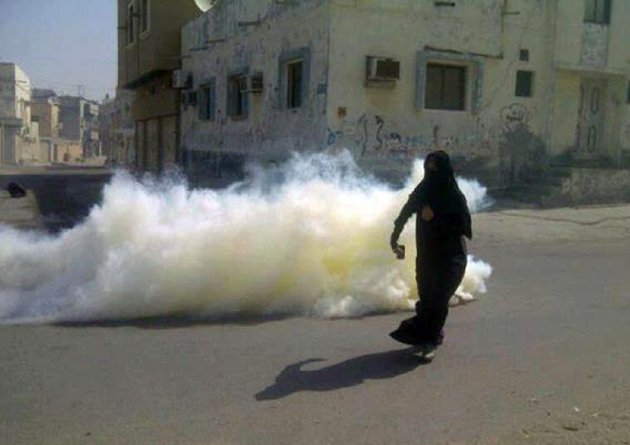 Bahraini police fired tear gas and birdshot at pro-democracy protesters and arrested dozens in clashes that raged through the night and into early Wednesday, the opposition said, as the kingdom marked the first anniversary of a Shia-led uprising.
The government meanwhile said in a statement it had deported six US citizens for joining the "illegal demonstrations," bringing the number of Americans expelled from Bahrain to eight since the end of last week.
Witnesses said the clashes, which took place in Shia neighbourhoods on the outskirts of the capital Manama, left many people wounded, but most received treatment in private homes.
Wounded protesters in Bahrain avoid hospitals for fear of arrest or intimidation by the authorities.
In a statement released Wednesday, the main Shia opposition Al-Wefaq said "large numbers of injuries … were caused by birdshot pellets, tear gas canisters, stun grenades," but gave no figure.
Bahraini police made dozens of arrests from Tuesday while dispersing protesters attempting to march on the capital's former Pearl Square, the focal point of the 14 February uprising that was crushed a month later.
"The total number of arrests … is around 150, including women and children between the ages of 13 and 16," the Al-Wefaq statement said, adding that some were later released.
Prominent activist Nabil Rajab, head of the Bahrain Centre for Human Rights, who on Tuesday led a demonstration towards the square, was briefly detained by police, Al-Wefaq said in a statement on its Facebook page.
In a morning tweet on Wednesday, Rajab said he has been "accused by the prosecutor of inciting people to protest … and taking part in an unauthorised gathering."
The six American "activists" that were deported had entered the country on tourist visas in the past week, an Information Affairs Authority statement said.
They were briefly questioned at a local police station and "agreed to leave the country without further legal procedures," the statement added.
Two other Americans were deported on 11 February after being accused of participating in "illegal" activities.
The arrests and expulsions came as Bahrain on Tuesday marked the first anniversary of last year's uprising against the government, and the brutal crackdown that followed which left 35 people dead, according to an independent commission of inquiry into the violence.
In a statement this week, Amnesty International said that "at least a further 20 have died," in ongoing protests since the end of November when the report was released.
Al-Wefaq has vowed that the protest movement would continue and has accused the government of being "tyrannical."
Bahrain's chief of public security, Tariq al-Hassan, said there would be "no tolerance of vandals and law enforcement is the ultimate solution," according to an interior ministry tweet.