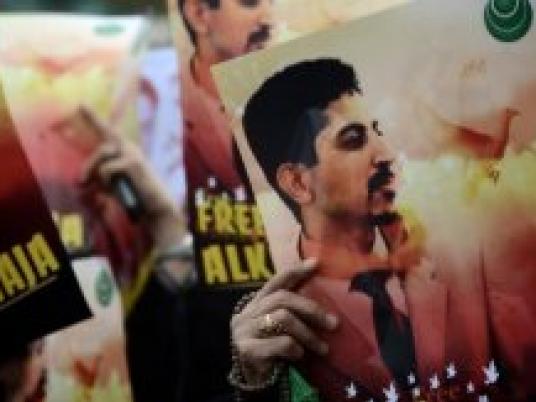 Jailed Bahraini dissident Abdulhadi al-Khawaja, on hunger strike for more than three months, is well but still continues his fast to protest a life sentence, his lawyer said on Thursday.
"Abdel Hadi can walk. He is conscious and moves around normally," the lawyer, Mohammed al-Jishi, told AFP after meeting with his client for the first time in more than 45 days.
"He is pursuing his hunger strike and subsides on liquids for his survival," said Jishi.
He said he met Khawaja at Jaw prison, south of Manama.
Khawaja was taken to Jaw on Tuesday weeks after being kept in a military hospital for observation.
"His health has slightly improved because he was force fed," the lawyer said of Khawaja.
Khawaja, who has become a symbol of Bahrain's opposition movement, was arrested in April 2011, shortly after a regime crackdown on a month-long Shia-led uprising that killed 35 people, according to an independent probe.
He and 20 other mostly Shia activists were convicted in June of plotting to overthrow the Sunni rulers of the Shia-majority Gulf kingdom.
Seven of them, including Khawaja, were jailed for life, while 14 others were sentenced to between two and 15 years in prison.
Bahrain's judicial authorities ordered a retrial, with a hearing due next week.
Khawaja began his hunger strike on 8 February to protest the conviction and later said he would refrain from drinking water as well, triggering concern for his health.
Looking frail, but alert, Khawaja told the BBC on 1 May that he will keep up his hunger strike, during a meeting with correspondent Frank Gardner and producer Mark Georgiou.
The pair were allowed to see him for five minutes at the military hospital during which Khawaja told them "his medical treatment had been good 'except for the force-feeding,'" a claim denied by authorities, BBC reported.
In a picture of the meeting on the BBC website, Khawaja was sitting at the edge of his hospital bed, with a bowl and a cup at the night table next to him.
The BBC reported that Khawaja was "drinking fluids, and hospital staff said he was also drinking regular nutritional supplements."