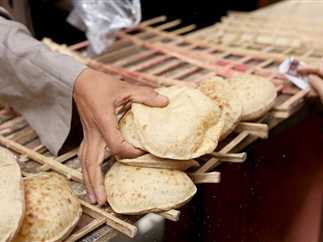 Abdallah Ghorab head of the General Division of Bakeries suggested during a telephone interview with presenter Azza Mustafa on Sada al-Balad channel: the issuance of ration cards from the Supply Ministry to buy unsubsidized bread according to the price set by the state.
"The minimum price for an unsubsidized loaf of bread reaches 75 piasters in some areas," he said.
According to the Minister of Supply Ali al-Moselhy, a meeting will be held soon to determine the mechanisms for setting the prices of the unsubsidized loaf of bread, Ghorab said.
The government bears 65 piasters of the cost of the subsidized loaf of bread, he said.
There are nearly 30,000 bakeries nationwide.
He praised the proposal to set the price of unsubsidized bread for three months, saying: "We are in a turbulent period. It is possible to implement these decisions until the situation stabilizes."
Egyptian President Abdel Fattah al-Sisi ordered on Tuesday fixed pricing for nonsubsidized bread to "reduce its price hike".
This came a day after the government announced an "emergency plan" to deal with price hikes that have taken a remarkable pace in recent weeks.
The price of nonsubsidized loaves of bread rose within an upward wave in the prices of the most prominent commodities at a time when Egypt was searching for more wheat in international markets with the start of the Russian invasion of Ukraine, the largest supplier of wheat.
The Egyptian President also ordered "working to diversify the sources of supplying these commodities.
Sisi instructed his government to "quickly determine the incentive to supply additional local wheat ardebs for the current agricultural season and announce it as soon as possible.
This is" in order to "encourage farmers to supply the largest possible amount of wheat."