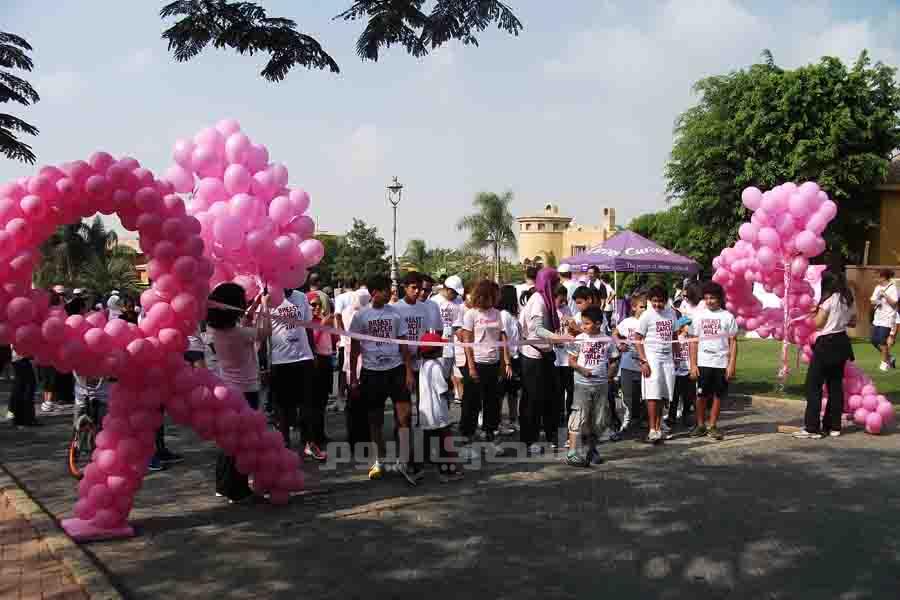 In celebration of Globe-athon to End Women's Cancers, an international movement to educate people on cancer, a group of volunteers organized an edutainment march, named 'Sahtak bel Donia' (Your Health is the Most Essential Thing), where they gave away gifts and great information in an effort to raise the passersby's awareness about the most common cancers among women in Egypt.
Both the Breast Cancer Foundation of Egypt (BCFE) and the Lebaladna Development Foundation teamed up this year to disseminate knowledge about different types of woman-related cancers and enhance a spirit of hope and optimism in an interactive manner.
According to the National Cancer Registry Program of Egypt, "the 10 most common cancer sites among females are breast, ovary, liver, leukemia, bone, uterus, bladder, thyroid, colorectal and lung, accounting for 72.3 percent of female incident cancer cases."
One of the march's volunteers distributing balloons
Besides giveaways, free booklets were also distributed throughout the day, providing essential knowledge about many key facets of women's cancers, while putting a strong emphasis on breast cancer.
According to the WHO, breast cancer is the most common cancer in women both in the developed and developing world, with nearly 1.7 million new cases diagnosed in 2012 (second most common cancer overall).
The BCFE's statistics state that breast cancer represents 29 percent of women's cancer cases in the world and more than 37 percent of women's cancer cases in Egypt.
One of the giveaways reads 'Keep your smile.'
The march's volunteers pose with some participants
Many families, young adults and even children stopped to learn the symptoms of cancer and how to decrease the likelihood of developing the disease.
Ahmed Mekkawy, a member of Lebaladna Development Foundation, said the idea was met with great enthusiasm. "The edutainment march is a win-win approach to attract people's attention to cancer, encourage everyone to join the fight by spreading knowledge and urge women to get screened."
Getting a mammogram is the first step in taking a proactive stance against breast cancer, though women should take into account that a healthy lifestyle can help prevent all types of cancer.
"Obesity, smoking and high alcohol consumption can increase the likelihood of developing cancer," Mohamed Shaalan, a professor of cancer surgery at Cairo University's National Cancer Institute, told Egypt Independent.
Shaalan, who is also the foundation's chairperson, recommended adopting a healthy lifestyle, including four hours of exercise per week, such as walking or aerobics exercises, and sticking to a balanced nutritional plan, rather than undertaking short-term diets.
The Breast Cancer Foundation of Egypt offers free mammograms. Call 19417 between 9 am and 3 pm to make an appointment.
A volunteer distributes booklets and giveaways to cars