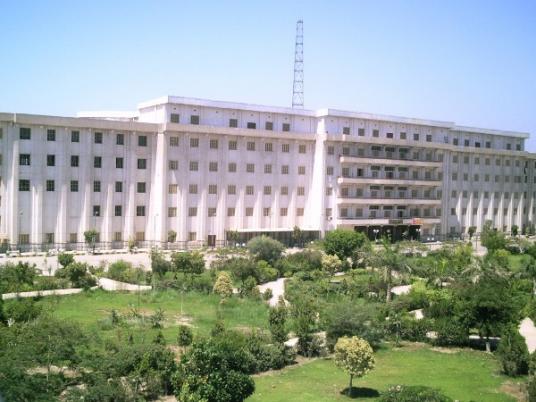 A group of professors from Beni Suef University have established the first specialized university in the region for nanotechnology and biotechnology.
Called the Faculty of Post-Graduate Studies for Advanced Sciences, the professors hope the new department will improve the quality of scientific research and find applicable solutions to most of the environmental and industrial problems Egypt suffers from.
"This faculty is the first of its kind not only in Egypt, but also in Africa and in the whole Arab world," says Mohamed Hamdy Khedr, dean of the faculty. "In fact, it will enable ambitious researchers to study different branches of advanced sciences that traditional faculties don't pay much attention to."
He believes that many Egyptians fail to market themselves or create plans for the future. Thus, the faculty plans to adopt an innovative integrated system to help provide solutions to many of the country's existing environmental and industrial problems.
"The faculty will accept graduates from different applicable faculties, such as science, medicine, pharmacy, and engineering, and organize them in groups to allow them to work in teams and share their experiences," he explains.
The faculty has decided to start its program by opening three main departments: nanotechnology and material science, biotechnology and biology sciences, and environment and industrial development.
Khedr adds that instead of just submitting a research paper to get their master's or PhD certificates, students will be asked to work on a prototype that could solve one of the many problems Egypt faces. The students will also be sent to electronics companies to get technical and empirical training that will help them apply everything they study on the ground.
In the long term, this will contribute to changing the mentality of Egyptian researchers and scientists, Khedr says.
Ahmed Farghaly, a nanotechnology professor at the university and the head of the project's support and financing unit at the university, says that nanotechnology is the magic wand that could change the environmental and industrial face of Egypt.
"It is very important to provide students with courses about nanometric materials and their modern applications in the fields of alternative energy and developed industries," he says.
One example, he says, is water purification. Egypt has had amazing results regarding the removal of harming contaminants, such as dyes, found in high concentrations in factory waste, he says.
"Also, nanotechnology can help reduce the costs of many industries, as it decreases the amounts of catalysts needed to complete chemical reactions," Farghaly says.
Using nanotechnology can allow the country to get rid of air pollution caused by carbon dioxide emissions from cars, by using filters made from simple, modified natural materials that can break gas molecules and turn them into safe and useful gases, he says.
Farghaly also states nanotechnology's importance in the field of solar energy, saying it can be used to turn sunlight absorbed by solar cells into electricity, which could later be used for operating devices.
The faculty aims to welcome all students who have a strong desire to learn — though they will prioritise graduates with high grades — believing everyone has the right to try and learn new technologies, Khedr says.
"The faculty contains modern laboratories and high-quality equipment," he says. "We agreed on an Egyptian-American partnership program and are waiting for another fund from the international cooperation ministry."
He says he expects the faculty to be a great success, despite the fact that many people rejected the idea in the early stages of the project and were resistant to changing existing teaching methods. But they changed their minds when they realized how much value could be added to education and scientific research.
"The success of this faculty will encourage universities to repeat this experience again in different specializations and generalize it across Egypt," he notes.
This piece was originally published in Egypt Independent's weekly print edition.