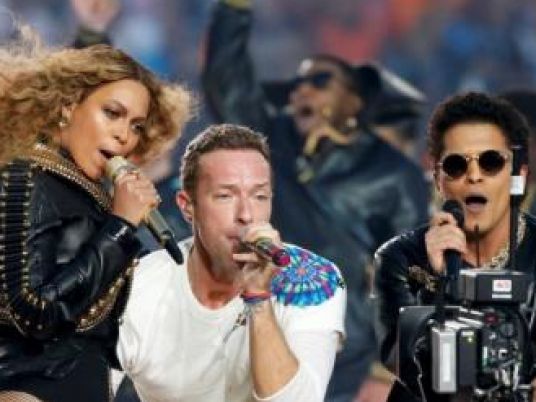 Coldplay headlined at Sunday's Super Bowl halftime show, but it was R&B super stars Beyonce and Bruno Mars who delivered the sizzle with a lively, upbeat production that paid homage to previous halftime performers.
Known mainly for mellow hits, British alt-rockers Coldplay amped up the energy, staging "Viva La Vida" on a colorfully illuminated floor surrounded by dancing violinists.
After Coldplay crowd-pleasers "Paradise" and "Adventure of a Lifetime," a black-leather-clad Mars, who headlined the halftime show in 2014, bounced through "Uptown Funk!," with producer Mark Ronson on DJ decks on stage.
But all eyes were on Beyonce, who gyrated her way through her latest single "Formation" – a power anthem to race and feminism that made a surprise debut on Saturday.
The music video features powerful images of a flooded New Orleans in the aftermath of Hurricane Katrina. It also depicts graffiti that reads "stop shooting us," suggestive of the Black Lives Matter movement, which emerged in the wake of killings of unarmed black men, several at the hands of police.
Prior to the game, some fans speculated on social media that Beyonce would deliver a politically charged performance.
But, partnered with Mars on the football field, the tone of the performance was lighter than the video. They subtly conveyed the themes of "Formation" with female dancers dressed in black shorts, crop tops and berets, in what was perceived as an homage to the black nationalist Black Panther Party movement of the 1960s and 70s.
Cedric Betts of Millbrae, California, who saw the performance live at the game, said Beyonce's message was clear. "As black people we have to embrace these moments because it's not often we get them," he said.
An ad immediately following the show announced Beyonce's "Formation" world tour beginning in April, her first major tour in three years.
Before wrapping up one of the signature moments of America's biggest sporting event, Beyonce and Mars joined Coldplay frontman Chris Martin for a quick re-visit to "Uptown Funk!," ending on Coldplay's uplifting ballad "Fix You." Images honored past halftime performers including Stevie Wonder, Black Eyed Peas and the late Michael Jackson, whose military-style wardrobe inspired Beyonce's costume Sunday.
Even for music's biggest stars, the Super Bowl halftime show is the largest stage of their careers, drawing more than 100 million viewers to the live event and lighting up social media.
This year's halftime show garnered a total of 3.9 million tweets. Beyonce dominated the conversation on social media during the halftime performance, with 1.3 million tweets about the singer according to figures from Twitter. Coldplay followed with 774,000 tweets, while Mars garnered 341,000 tweets. The most-tweeted song was "Formation."
Last year, Katy Perry garnered 3 million tweets during her halftime performance.
All three acts of this year's performers quickly became top trends on Twitter, with sentiments towards Coldplay's halftime show measuring overall positive, according to social media analytics firm Zoomph, with twice as many positive tweets than negative tweets.