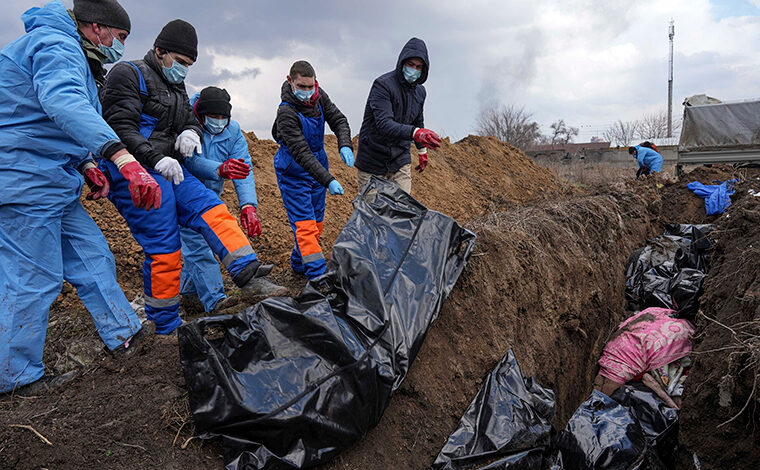 Disturbing photos show bodies being lowered into a mass grave in the besieged city of Mariupol, southern Ukraine on Wednesday.
The images from the Associated Press show men, some dressed in overalls or blue protective suits, placing bodies into a trench. In some photos, the corpses are in body bags, but others are wrapped only in what appear to be blankets.
The city has been under attack for days, bombarded and isolated by Russian forces.
At least 1,300 civilians have been killed in Mariupol since the Russian invasion began, an adviser to the city's mayor said Wednesday.
Residents have been cut off from water and electricity and on Tuesday Ukraine's Foreign Minister accused Russia of committing war crimes by holding 300,000 civilians "hostage.
"Really, we can't calculate how many deaths we have — I mean three to four times more. We are not even able to count how many people on the streets have been killed by bombing and artillery," Mariupol's deputy mayor, Sergei Orlov told CNN.
"We do not know how many, because we cannot collect all the bodies and we cannot count."
To deal with the sheer number of bodies, city workers dug a deep trench over 75 feet (22 meters) long inside a graveyard and laid to rest the bodies of soldiers and civilians who had been killed during repeated attacks by Russian forces.
Evgeniy Maloletka, a photojournalist with the AP who captured the scene, said some of the bodies are "brought wrapped in carpets or plastic bags." "Forty came Tuesday, another 30 so far Wednesday," he added.