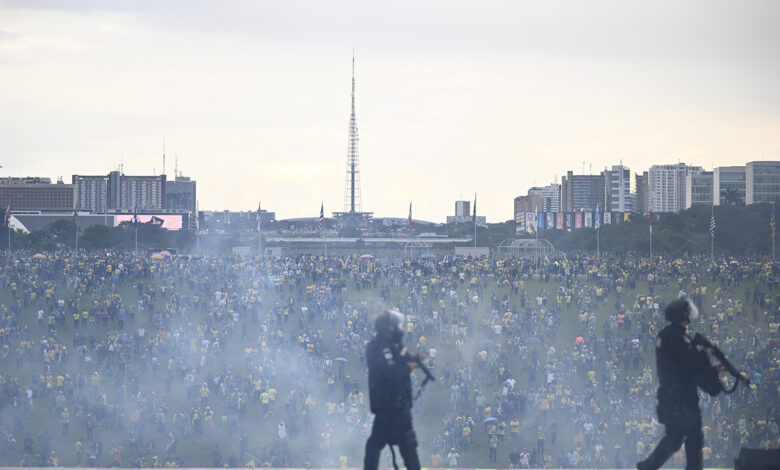 Brazilian authorities say they have restored order in the capital Brasilia after hundreds of supporters of former leader Jair Bolsonaro stormed government buildings to protest against his successor and rival, President Luiz Inácio Lula da Silva.
The breaches came about a week after the inauguration of Lula da Silva, who returned to power following a 12-year hiatus that ended when he defeated Bolsonaro in a run-off election in October.
Here's the latest:
What happened: Hundreds of Bolsonaro supporters smashed windows and used furniture to form barricades against security forces as they raided the congressional building, the Supreme Court and the Planalto Presidential Palace. At least 400 people have been arrested, authorities said.
What's happening now: It's early morning in Brasilia and the riots are over, according to an official appointed by the president to manage the unrest. The justice minister said security has been tightened in the capital.
What Lula da Silva said: Visiting the scene, the President promised to punish those involved in the violence. Earlier, Lula da Silva described events in the capital as "barbaric" and said "a lack of security" had allowed Bolsonaro's "fascist" supporters to breach barriers set up by security personnel.
How Bolsonaro responded: Writing on Twitter, Bolsonaro also denounced the actions of his supporters, saying that although peaceful and lawful demonstrations were part of democracy, "depredations and invasions of public buildings as occurred today, as well as those practiced by the left in 2013 and 2017, escape the rule."
How the world reacted: US President Joe Biden condemned "the assault on democracy and the peaceful transfer of power in Brazil" and expressed support for Lula da Silva. He was joined by a chorus of world leaders in condemning the violence, including Indian Prime Minister Narendra Modi, French President Emmanuel Macron and UN Secretary General Antonio Guterres. "The will of the Brazilian people and the country's institutions must be respected," Guterres said.
What happens next: A Brazilian Supreme Court judge has ordered the military to dismantle all Bolsonaro supporters' camps across the country within 24 hours and told police to arrest any protesters still on the streets. Commanders from the armed forces, police and the defense minister will be held accountable in court if the camps are not dismantled, the judge said, adding that all highways in the country must be cleared on Monday.