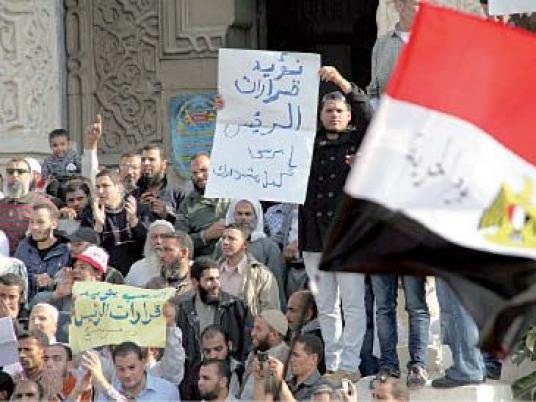 The Muslim Brotherhood is about to legalize its status, Insurance and Social Affairs Minister Nagwa Khalil said Wednesday, noting that the new NGOs law does not prevent any party or group from forming an association, as long as it is funded domestically.
"If funded from abroad, it needs a permit so as to make sure the funds are spent on the community," she said.
The National Salvation Front opposition coalition has demanded that President Mohamed Morsy take unspecified legal action against the Muslim Brotherhood group.
Protests in Cairo and other governorates have been common since the group climbed to the helm of power. Protesters have called for the group's dissolution, saying its existence is illegal under Law 84/2002.
The law is controversial, with rights groups considering it oppressive. Under the law, former President Hosni Mubarak dealt with the Brotherhood as an outlawed group, and several members were arrested.
The Brotherhood has been operating outside the framework of Egyptian law since the group was disbanded in 1954 under former President Gamal Abdel Nasser. In 2011, authorities approved the establishment of the Freedom and Justice Party, the Brotherhood's political arm.
Khalil also said the government is eager to provide opportunities for people with special needs. With regard to insurance funds, she said they were deposited in the public treasury under the former regime.
"The regime considered them public funds, although they are private," she said. "But we are working on getting them back over 10 years."
Edited translation from MENA