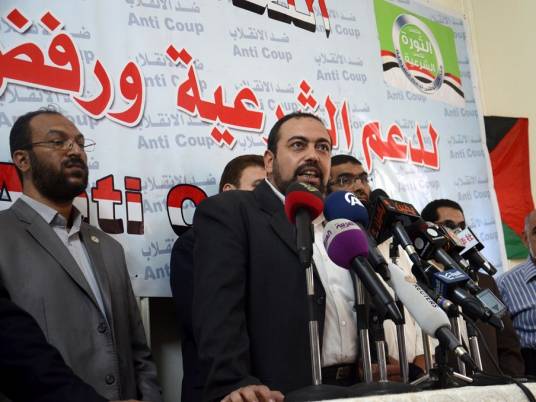 The Muslim Brotherhood-led National Alliance to Support Legitimacy plans to stage sit-ins at Cairo's Tahrir Square during the anticipated referendum on the constitutional amendments slated for 14 and 15 January, a process that the alliance deems illegitimate.
A leading figure of the alliance, who asked not to be named, said the alliance plans a revolutionary wave that could disturb security forces and make them feel lost between securing the polls and securing the streets.
The protests will rely on pro-Muslim Brotherhood university students who enjoy "organizational and networking abilities," the source added, noting that the decision was taken following a series of meetings at the offices of the Islamist Wasat and Labour parties.
The same source noted that communication is being initiated with other "revolutionary groups" seeking cooperation and "protesting till the fall of the military coup."
He claimed that several political groups expressed readiness to take part if the sit-ins succeed.
"There is no intention to resort to violence," the source said, but he added that protesters will, however set fire to police vehicles if forces shoot at the demonstrations, without pointing weapons to any soldier.
Mahmoud Fathy, chairman of the Salafi-oriented Fadila Party, also a member at the alliance, urged supporters of deposed president Mohamed Morsy to prepare for the sit-ins during the referendum, stressing that a "new revolutionary wave like 30 June" will take place against the current authorities.
Magdy QurQur, a group leader, said "the alliance is preparing for a major march on the day of the referendum to invade squares across Egypt."
Edited translation from Al-Masry Al-Youm