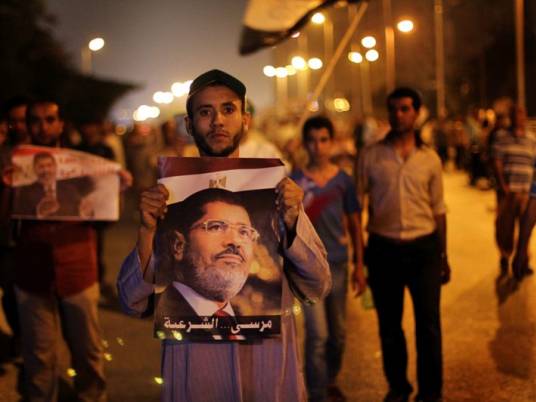 Mohamed al-Damaty, spokesperson of ex-president Mohamed Morsy's defense team, said former presidential hopeful Mohamed Selim al-Awa is the only lawyer who will defend Morsy during his trial which is scheduled to start on Monday at Tora Police Institute.
Damaty added that the defense team will defend 15 suspects, seven of whom are fugitives, including: Awa, Damaty, Nabil abdel Salam, Saleh al-Senousy, Mohamed Tosson, Mohamed al-Masry, Atef Shehab, Montasser al-Zayyat, Mahmoud Youssef, Osama al-Helw and Fathy Tamim.
Damaty also said that Awa will submit a request to the court enabling the team to meet Morsy in his prison but not defend him, adding they do not recognize legitimacy of the court.
The team's stance conforms to that of Morsy during his last speech when he expressed his willingness to sacrifice for the sake of legitimacy, Damaty said.
Damaty said the attendance of lawyers defending Morsy does not mean recognition of the trial's legitimacy. He added that they had not yet received permission to access the trial and that they did not even know if they would be allowed access or not.
In related news, Freedom and Justice Party (FJP) legal committee member Mohamed al-Sisi said the commission formed to defend Morsy during his trial's first session on Monday will take part as observers. According to Sisi, Morsy's family said he does not want lawyers to defend him.
Sisi told Al-Masry Al-Youm that the president's trial is an attempt to undermine confidence in the president.
Sisi said that former Interior Minister Ahmed Gamal Eddin should be asked about charges leveled against Morsy of killing protesters in front of the presidential palace after police and republican guards withdrew to the inside of the palace. The president is not responsible of crimes, even if it took place inside the palace. "This does not happen in any country," he added.