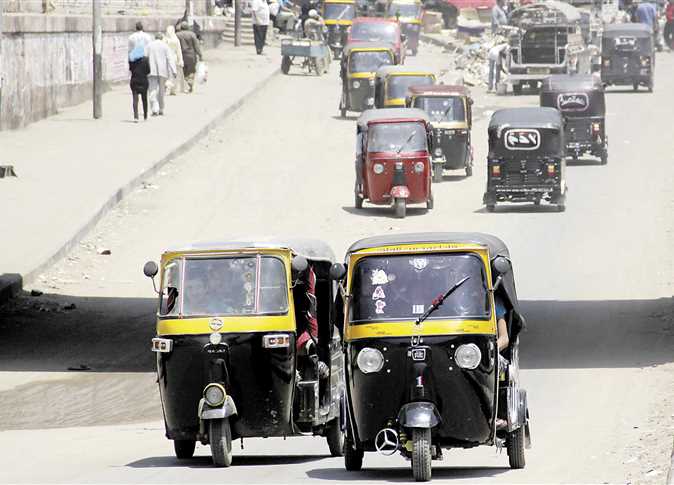 The cabinet has revealed the details of the government's initiative to license tuk-tuks and replace them with minivans.
Spokesperson for the Cabinet Nader Saad explained, during a telephone interview with presenter Azza Mostafa on the "Tahrir Hall" program that the number of tuk-tuks in Egypt amounts to nearly 2.5 million, only 10 percent of which have obtained an official license.
Saad said that among the reasons for not licensing tuk-tuks is the tendency to use them in criminal acts.
The official registration of tuk-tuk provides a complete inventory of the data of its owners and comes with advantages such as health insurance and a pension for its owners.
He said that the licensing fees for the tuk-tuk under the new initiative will be less than the current fees, to motivate owners, explaining that the Ministry of Interior will set a deadline for licensing after which any violating tuk-tuks will be confiscated.
"The initiative also allows to replace a tuk-tuk with a minivan, after evaluating its condition and deducting its price from the value of the minivan," said Saad.
"The licensing of the tuk-tuk does not mean that it is allowed to be used in all areas, as the local authorities will specify the neighborhoods in which the tuk-tuk will operate," he added, pointing out that the licensing terms will include specific conditions, including the legal age of the driver to eliminate child drivers.

Regarding the conditions for replacing the tuk-tuk with a minivan, he said, "The basic conditions were not specified, but [authorities] will provide the largest possible facilities," adding, "There will be no impossible conditions, because replacing the tuk-tuk with the minivan is in our interest."
He revealed that the minivans are scheduled to run on natural gas, to protect the environment and save expenses from using petroleum materials.