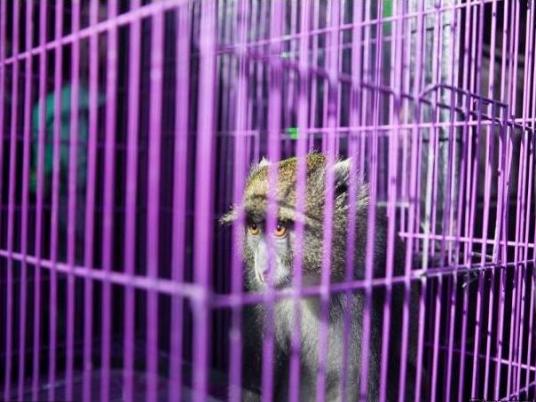 A new nightclub in Mohandiseen, Cairo White, has been facing accusations of animal cruelty for keeping a caged monkey next to the dance floor, in the midst of loud music, drunk patrons, and heavy smoking.
Anne de Groot, a Cairo360 writer who initially reviewed the club for the website, was the first to attack photos published by one of the club's DJs with the caption, "Our Dancing Monkey."
"It's just appalling," says de Groot. "The worst thing is that no one in the club did anything, and the club is actually proud of it. It's dubstep night, and so the monkey has to listen to that intense music all night, with the drinks and the smoke, and God knows what we don't see in the pictures."
Another photo shows patrons and an employee holding drinks and posing next to the cage.
According to online reports, the Egyptian Society for Mercy to Animals (ESMA) has been informed, but animal rights activists are skeptical about whether or not this will have any effect.
"The authorities just sit at their desk and do nothing, they hardly even answer calls," says Dina Zulfikar, a leading animal welfare activist. "The problem is not limited to the confiscation of this particular monkey — there are thousands of monkeys and other exotic animals everywhere in Egypt. The authorities don't care; I am fed up with them."
The Cairo White employee, who was shown in a photo posing next to the caged monkey, offered his statement:
"How do you define cruelty? The monkey is always in the cage and nobody touches it," he says. "Have you ever been to a circus? People smoke there and there's also loud music. I think people are making too big a deal out of this. I've lived in the United States, and I know what animal cruelty is. I think those interested in animal cruelty should see to all the other animals suffering in and around Egypt."
*Correction: The Cairo White employee's name and photo were removed from the article upon his personal request to Egypt Independent.