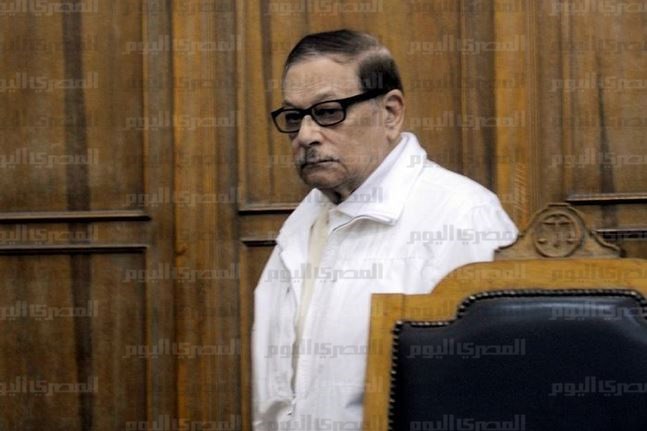 Cairo Criminal Court on Sunday sentenced Mubarak-era parliament speaker Safwat al-Sherif to three years in prison for illicit profiteering and abuse of power to make a fortune.
The court convicted Sherif and his two sons, Ashraf and Ehab, on corruption charges in May 2016. Sherif and Ehab appealed the verdict, and the court of cassation ordered a retrial for them.
Ashraf al-Sherif was tried in absentia and sentenced to 10 years in prison, and didn't appeal the first instance ruling.
The court cleared Ehab al-Sherif from the charges, and fined his father LE 99.5 million.
The Illicit Gains Authority previously referred Sherif and his two sons to trial in August 2012 for illegally making profits amounting to LE 300 million.
An investigation revealed that Sherif made the aforementioned profits by using his various public posts for personal gain. Sherif was the head of the State Information Service, an official news service and public relations agency, the head of Egyptian Radio and Television Union, the minister of information and speaker of the parliament's upper house, the Shura Council.
Egyptian authorities came to address the long history of corruption cases involving several Mubarak-era ministers and businessmen following the January 2011 uprising, which toppled Mubarak after 18 days of mass protests.
Sherif, one of the linchpins for ex-President Hosni Mubarak's regime, served as the NDP's general secretary from 2002 until his removal during the 25 January revolution.
Investigations revealed that Ashraf owned plots of land, real estate and corporate stocks that do not match his legal sources of gain. Investigations also revealed that both of Sharif's sons abused their father's influence to gain advantages with the state TV and press organizations, including advertising discounts and setting the screening schedule for commercials.
Edited translation from Al-Masry Al-Youm