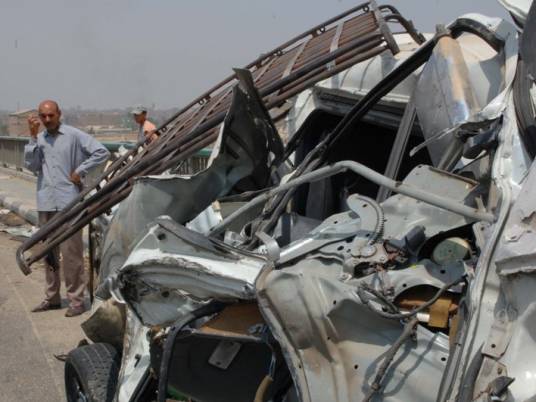 Twenty eight people were injured on Sunday night after a bus collided with five cars on the Cairo-Ismailia desert road.
Essam Farahat, Director of Critical and Emergency Care Department at the Sharqiya Health Directorate, said that the injured were immediately transferred by ambulance to the Health Insurance Hospital at the 10th of Ramadan City, which received 9 cases, and Belbeis Central Hospital, which received 19 other people.
Two others were transferred to al-Ahrar Teaching Hospital.
Hisham Massoud, Undersecretary of the Ministry of Health in the Sharqiya said that the necessary care and tests were provided for the victims, who left the hospital after receiving first aid. The governor of Sharqiya had instructed Massoud to immediately provide the health care and treatment for the victims accident, including surgeries if necessary.
Egypt has a road traffic fatality rate of 42 deaths per 100,000 people, according to the World Health Organization. The majority (48 percent) of those killed are passengers of four-wheeled automobiles, although pedestrians also constitute a significant proportion (20 percent) of these fatalities.
According to a report by the Central Agency for Public Mobilization and Statistics on accidents in 2017, car accidents on roads resulted in 3,747 deaths, 13,998 injuries, and 17,201 damaged vehicles during that year.
The report added that the primary cause of accidents was the human factor, which accounted for 78.9 percent of total accidents, followed by defects in the vehicle at 14 percent and environmental causes (such as road conditions) at two percent of total accidents.
Edited translation from Al-Masry Al-Youm