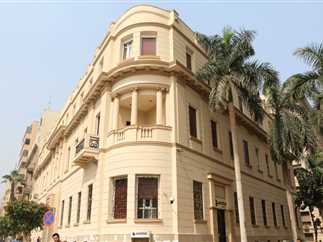 Cairo governor Atef Abdel Hamid announced the start of development of the Stock Exchange area in downtown Cairo as part of a comprehensive plan to restore the Khedive architectural style of downtown Cairo by reconstructing buildings and facades, to turn the area into an open museum.
Abdel Hamid said in a press statement on Monday that the Stock Exchange area includes 23 buildings, 17 of which are currently under development through funding worth approximately LE5 million, provided by the National Bank of Egypt (NBE).
The NBE will also finance the development of 12,000 sq meters of the surrounding pedestrian streets in the area, he added.
The governor said owners of closed down shops can reopen them, after they coordinate with authorities and obtain relevant licenses regarding their shop's activities.
Saeed al-Bahr, Director of Khedive Cairo Development Project, said that the Stock Exchange area is located between Qasr al-Nile Street, Mohamed Sabry Abu Alam Street, al-Qady al-Fadel Street, and Elwy street. It is being developed with funding from major economic entities such as banks and companies, he said.
Meanwhile, the Cosmopolitan Hotel building has been redeveloped by its owners, and the Suez Canal Bank building has also been redeveloped with a funding of LE500,000 provided by the bank. The bank provided another LE500,000 for the development of the surrounding area, according to Bahr.
Streets will be repaved and the elevation of sidewalks will be adjusted. Additionally, lighting poles will be installed, trees will be trimmed, and fences will be painted as part of the project, said Bahr.
Edited translation from Al-Masry Al-Youm