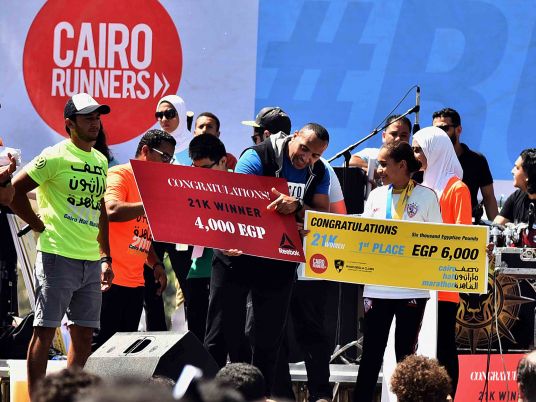 At six o'clock on Friday morning, the neighborhood of Maadi came alive with balloons, fluorescent yellow t-shirts and the sound of drumming, announcing the start of the annual Cairo Runners marathon.
Thousands of runners took to the streets to take part in the sporting event, which started at the Technology Village in Maadi. Ambulances lined the roads of the course on standby to aid the runners. Competitors had the option of running a 1 km race, a 7 km race, or the full 21 km half-marathon.
Biker Yassin al-Zoghby, a determined teenager who lost a leg as a result of an accident, defied his disability by cycling the course.
"When the people [in the race] see me doing the full 21km marathon by bike with just one leg, they'll know that there's still hope for them," he said.
As the clock struck 7 a.m., supporters applauded as the last runners crossed the finish line of the 1km "family run", aimed at encouraging children and the elderly to join the cause. Aiman Fareed, who ran the race with his five-year-old son Omar, said, "Omar was desperate to come and join in, and even though we couldn't find a T-shirt in his size, he insisted on getting up early and running the race."
Ahmed al-Shazly, a Cairo Runners organizer, posted the vision for the race: "Our message isn't just about sport, but about reviving family values in the streets. Just as our parents and grandparents played safely in the streets, we want to prove that despite the passing of time, these things stay the same and we can go out and do sport in the streets without encountering trouble."
Shazly added that the number of participants in the marathon reached a staggering 8,000, of different backgrounds, ages and nationalities.
He announced that Cairo Runners have will donate half the proceeds from the race to charity. This year, the fund-raising effort focuses in particular on providing street lighting to underprivileged villages of the northern governorates and Upper Egypt, converting, as Shazly put it, the enthusiasm and energy of marathon runners young and old into energy to light up the villages of Egypt.
Of course, that's not to forget the health benefits of the race: "We have a vision that all members of society can do sport in the streets – it would improve our health and well-being no end," Shazly said.
The event finished with an award ceremony, with prizes for the first three places in the race, and medals for all who participated. Bringing the race full circle, the end of the day saw the streets of Maadi filled with the sound of music for a second time, as rock band Cairokee struck up to accompany the award ceremony.
Photos by Aly el-Malky