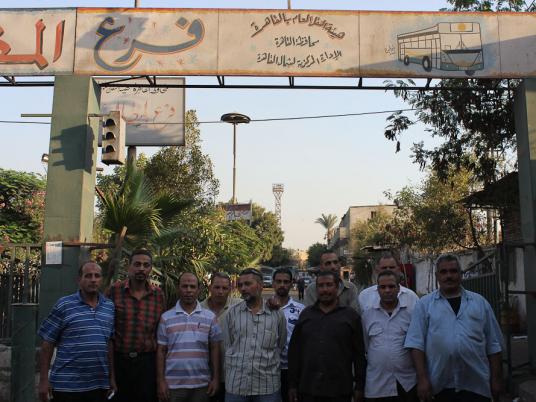 Several thousand bus drivers, mechanics, engineers and fare collectors employed at the Public Transport Authority went on strike Saturday and Sunday. Although a comprehensive strike — involving all 45,000 PTA employees — was planned across greater Cairo Sunday, only a handful of garages witnessed strike action on the first day of Egypt's academic year.
Ever since August 2009, some 45,000 PTA employees have been demanding that they be merged under the Transportation Ministry, rather than Cairo Governorate. These employees have also been demanding improved wages and working conditions, along with bonuses, healthcare, insurance plans and the purging of PTA officials deemed to be corrupt, among other demands.
Striking workers at the Mazallat Garage in Shubra say the comprehensive strike scheduled for Sunday has been pushed back until Wednesday.
"We have given the authorities another three days to meet our demands before we embark on our comprehensive and open-ended strike in all 27 garages," says Ahmed Abdel Aziz, vice president of the Independent Union of Public Transport Authority Employees at the Mazallat Garage.
The strikers in Mazallat claim that another six PTA garages — Imbaba, Tera'a, Athar al-Naby, Tiba, Giza and Gisr al-Suez — were also involved in Sunday's strike, although not all the workers at these garages were striking. On the other hand, state-owned media reports mention that only two garages were involved in Sunday's strike — Mazallat and Imbaba. State newspapers have called it "a failed strike."
State radio services denounced the strike on the basis that it "obstructs the wheels of production" and "prevents students from attending their classes" on the first day of the academic year, also mentioning that "legal measures may be taken against instigators."
Indeed, legal measures have been taken against a strike leader from the Imbaba PTA Garage on Sunday afternoon. Tareq al-Beheiry, president of the Independent Union of Public Transport Authority Employees at the Imbaba Garage, was reportedly arrested by security forces on charges of instigating labor unrest.
"The PTA officials are attempting to outlaw our right to strike, just as they attempted to deny us our right to establish independent unions," says Abdel Aziz.
The PTA's Independent Union Federation was established on 24 March last year. Since then, some 22,000 PTA employees have quit the state-controlled General Union for Land Transport and joined independent unions, the federation says.
Ten riot-police trucks loaded with hundreds of troops were deployed outside the Mazallat Garage Sunday. Abdel Aziz says PTA chief Mona Mostafa "called for the deployment of the Central Security Forces here today; she falsely claimed that we workers might resort to smashing up our buses in protest."
Another striking worker, Fawzy al-Sayed, says, "How and why would we destroy our buses? These buses are our source of income through which we support our families."
Sayed, a fare collector, takes out his monthly pay slip from his shirt pocket, unfolds it and points to a box on the left-hand side of the slip.
"I've been working at the PTA for the past 25 years and I earn only LE643 per month. This includes bonuses," he says.
Striking bus driver Ibrahim Abdel Wahed displays his pay slip, revealing his meager LE787 monthly wage.
"I've been licensed to drive the PTA's largest buses, and have been doing so for the past 23 years. Yet I have to work a second job as a taxi driver to feed my wife and three children, just to make ends meet," Abdel Wahed says.
Dozens of other PTA employees shout in near unison, "We all have other occupations" — typically as taxi and tuk tuk drivers or janitors.
A disgruntled bus driver, Shokry Seif, asks, "How are we expected to transport children to their schools when we can't even afford to send our children to school?"
Regarding the timing of their strike, Seif says, "We are not trying to keep students from attending their schools or trying to halt Egypt's wheels of production, as they claim. On the contrary, we are striking to demand improved public bus services. We are striking to demand financial and administrative accountability within the PTA, and we are striking to purge the authority of all corrupt figures."
"We demand improved services and an accountable PTA, not only for our sake and the sake of our children, but for the sake of all commuters, for the sake of Egypt and its national budget," he says.
Seif says the former transportation minister had revealed that 49 percent of all PTA buses are not suitable for passenger transport. The Transportation Ministry and PTA board members were not available for comment.
Mazallat's strikers pledge to continue their strike until the PTA becomes affiliated to the Manpower Ministry.
"This is our primary demand which our elected Parliament had agreed to, and was in the process of authorizing," says Abdel Wahed. "Since then, we've turned to the Shura Council and Transportation Ministry for their intercession, to no avail, however."
Bus driver and independent union organizer Ali Fattouh explains that the People's Assembly Transportation and Telecommunications Committee was due to authorize the PTA's merger with the Transportation Ministry during its session on 19 June 2012. Fattouh expresses his disappointment with the court-ordered dissolution of Parliament on 14 June, just days ahead of this long-anticipated decree.