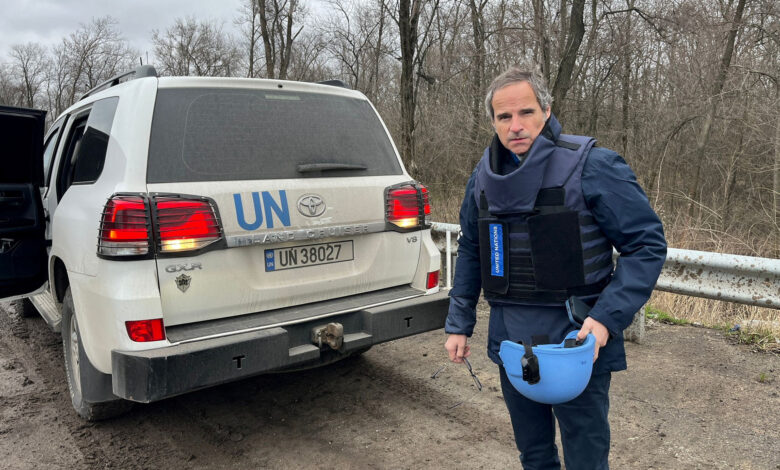 There are reports of new strikes in Melitopol, a city that lies between Kherson and Mariupol, in Russian-held southern Ukraine. And the head of the UN's nuclear watchdog has arrived on a visit to the occupied Zaporizhzhia power plant amid fears of growing military activity in the area.
Catch up on the latest headlines:
Woken up by blasts: Residents of Melitopol, a hub for Russian troops about 100 kilometers (62 miles) from the front lines, awoke early this morning to the sound of blasts, local media reported. A locomotive depot was among the areas hit, the city's administration said. Russian authorities in the city said shelling by Ukrainian forces partially knocked out electricity. Melitopol's exiled mayor said that "several explosions" were heard and the city's northern and western districts were without power, as well as some surrounding villages.
Nuclear watchdog arrives at occupied plant: International Atomic Energy Agency chief Rafael Grossi arrived at Ukraine's Zaporizhzhia nuclear power plant today for his second visit to the facility, which is controlled by Russian authorities. Grossi told CNN that military action around the facility is increasing and that Russia has said it is ready to discuss the safety situation at the plant with international observers.
An invitation to Kyiv: Ukrainian President Volodymyr Zelensky formally invited Chinese leader Xi Jinping to visit Ukraine in an interview with The Associated Press published on Wednesday. It's unclear if Xi will accept. He and Russian President Vladimir Putin are close allies who have have strengthened economic and political ties since the invasion of Ukraine began. Xi earlier this month conducted a three-day state visit to Moscow filled with pomp and circumstance, but their talks yielded no breakthrough on resolving the conflict.
The latest from Bakhmut: The situation in the eastern Ukrainian city, where fighting has raged for months, remains "under control," the Ukrainian military said. Kyiv said it shot down a Russian Su-24M bomber near Bakhmut this afternoon. CNN cannot independently verify the claim. Russian forces still control access to both Bakhmut and the nearby town of Avdiivka on three sides. They have made marginal gains in recent weeks but have been unable to encircle Ukrainian troops in either place. Most of the eastern front lines have changed little in the first three months of this year.
Elsewhere on the front lines: Ukraine's military also said in an update Tuesday that the heaviest combat is concentrated in several zones in the eastern Donetsk and Luhansk regions, and its units have repelled the latest efforts by Russian forces to advance.