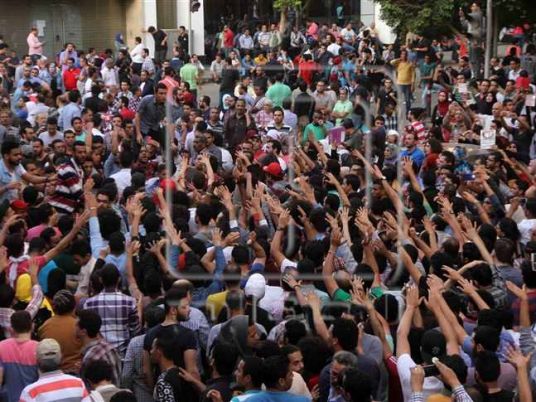 Egyptian security forces managed to prevent any large-scale protests taking place during daytime in Greater Cairo on Monday, making dozens of arrests, dispersing crowds and preventing access to established rallying points for anti-government protesters.
Activists had planned to hold large-scale protests across Egypt against the transfer of two Red Sea islands from Egyptian to Saudi control. The transfer of the Tiran and Sanafir islands was agreed on Aril 8 during the visit of King Salman bin Abdel Aziz to Cairo, and activists and political opposition groups had been seeking to arrange large-scale protests since then.
Monday, which was Sinai Liberation Day and a public holiday, had been identified as an opportunity for protests, but security forces were out in large numbers to prevent gatherings taking shape.
Nearly 20 young men were detained in Tahrir Square on Monday afternoon on suspicion of planning to stage a protest, according to eye-witnesses. They were held in front of a restaurant while a team of General Intelligence and National Security officers searched and questioned them.
According to the Egyptian Journalists Syndicate, journalist Basma Mostafa, who works at Dotmsr news website, was also arrested while passing by Tahrir Square en route to work in Garden City.
Meanwhile in Giza, security sources reported the arrest of 23 people attempting to hold a street protest. Police dispersed demonstrators in the Bulaq Dakrur area, firing tear gas and driving people into the side streets, said the source.
Several other gatherings were disrupted before they turned into large anti-government protests, said the same source.
One intended rallying point for protesters, the Egyptian Journalists Syndicate building in downtown Cairo, was cordoned off by police, according to Aswat Masriya. Security forces blocked the roads leading to the building, preventing pedestrians and syndicate members from entering.
Former press syndicate board member Mohamed Abdel Qodous said he was prevented from entering the syndicate for "security reasons". Abdel Qodous said, "This is the first time journalists were prevented from entering the syndicate in this manner."
However, one eye-witness told Aswat Masriya that protesters chanting slogans in support of the government were allowed into the area. Supporters of President Abdel Fattah al-Sisi were seen chanting, "The police and the people and the army are one hand."
On April 15, thousands of people gathered in front of the press syndicate under the slogan "Friday of the Land" to voice their objection to the island transfer agreement. Protesters ended the demonstration then but said they would resume protesting on April 25, Sinai Liberation Day.
However, last week, a security campaign was launched to prevent protests getting off the ground, arresting several of the alleged organizers in Cairo cafes and homes. A security sources said on Friday that at least 40 people had been arrested in the sweep, but most of them were later released.
As evening approached on Monday, a surveillance helicopter was seen circling over downtown Cairo, apparently seeking to identify further trouble spots before nightfall.