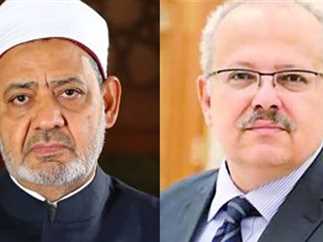 President of Cairo University Mohamed al-Khosht said recently in a statement on Facebook that part of his talk was cut off in the broadcast recording of a fiery debate between him and Al-Azhar Grand Sheikh Ahmed al-Tayyeb, which was held on Tuesday during Al-Azhar's International Conference on the Renovation of Islamic Discourse.
Khosht published the lecture that he delivered during the conference, following controversy over the debate. 
"Below is the text of the scientific paper of the Al-Azhar lecture, and also what I have accessed from the recording (of the lecture), because unfortunately, part of my words were cut off and deleted in the broadcast recording," he wrote on his official Facebook account.
"What I mentioned in the lecture is thoroughly thought-out and I mean it completely. It has been expressed in much of my research, books, and studies of Islamic heritage books, which have been published over 38 years and exceed 90 books," he added.
Tayyeb debated Khosht on Tuesday during a session on renewing religious sciences in an effort to keep pace with the modern era, as part of Al-Azhar's International Conference on the Renovation of Islamic Discourse.
The conference, which was held amid calls by Egypt's President Abdel Fattah al-Sisi for the renewal of religious discourse, part of broader efforts to fight extremism, aims to revive discussions about Islam without sacrificing Islamic values, according to Egypt's State Information Service.
In his speech during the conference, which Khosht claimed was not broadcast in its entirety, he argued for the renewal of religious discourse and advocated for reliance on the Quran and "what is true" of the Prophet's Sunnah, which is defined as the body of social and legal customs and other practices of the Islamic community based on the life and deeds of the Prophet Muhammad. The Sunnah, alongside the Quran and the Hadith, or recorded sayings of the Prophet, form the basis of Sharia, or Islamic law.
"The current reality of religious sciences is based constantly on transmission and reproduction," Khosht said.
He continued: "If al-Shafi'i (founder of one of the four schools of Islamic law in Sunni Islam) returned, he would have followed a new legal philosophy system, and so would Ibn Hanbal if he returned," he said, in reference to the founder of the Hanbali School of Sunni jurisprudence, another of the four main legal Sunni schools.
He explained, "The current religious discourse was created for an era other than ours and various (modern) challenges."
Tayyeb, however, disputed Khosht's claim during the debate that the Ash'ari theological school, the foremost theological school of Sunni Islam, is based on Hadith Ahad, or Hadith narrated by only one person, not fulfilling all of the conditions needed to be recognized as Hadith Mutawatir.
He added: "The heritage that we play down today and trivialize has created an entire nation and (achieved) coexistence (in that nation)…tell me your honor: How was the Islamic world going before the French campaign? It was following the laws of heritage."
Edited translation from Al-Masry Al-Youm