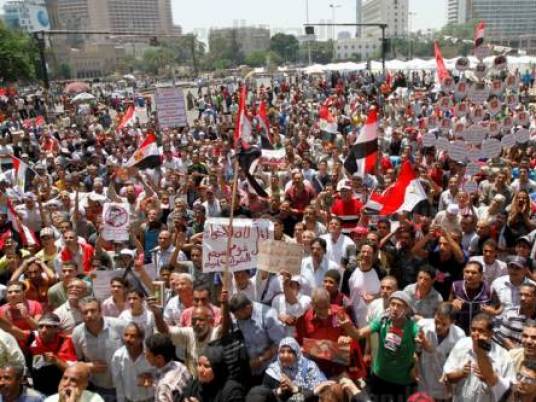 A state of calm prevailed in Tahrir Square on Saturday morning, after anti-Morsy protests Friday. Dozens of demonstrators continued their sit-in in advance of the 30 June protests that call for early presidential elections.
Protesters blocked several streets leading to the square, and the number of tents there is increasing. The demonstrators used metal barriers found near the Egyptian Museum, Qasr al-Nil Bridge, Falaki Street, and Qasr al-Nil Street. No barriers blocked the street leading to Simon Bolivar square.
In the middle of the Square, protesters raised banners demanding that confidence be withdrawn from President Mohamed Morsy and that early presidential elections be held.
No security forces are present in Tahrir. However, members of People's Committees stood at the entry points to the square, checking demonstrators' ID cards and ensuring the safety of all gathered.
Edited translation from MENA