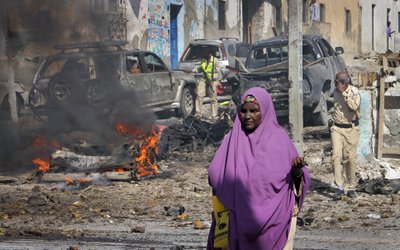 A car bomb explosion in the Somali capital Mogadishu on Sunday killed six and wounded 20 others and the death toll was likely to rise, a police officer said.
The bomb went off on the busy Maka al Mukaram road, police said, while a Reuters witness said the blast was followed by big clouds of smoke visible in sky.
"So far we know six civilians died and 20 others were injured. They were mostly pedestrians while others were shopping," the police officer said. "Death toll may rise. Most of the injured ones are very serious," Major Mohamed Hussein, a
police officer, told Reuters.
Earlier, a Reuters reporter at the scene of the blast had counted four bodies lying on the ground. Photographs taken by Reuters showed three destroyed cars on the road, with two still burning.
---
A car bomb blast near a police station in Somalia's capital on Sunday killed at least five people and wounded at least 13 others, police said. The explosion shattered a month of relative calm in Mogadishu, often a target of the extremist group al-Shabab.
The blast near Waberi police station along the busy Maka Almukarramah road may have been a suicide bomber, Capt. Mohamed Hussein told The Associated Press.
The al-Qaida-linked al-Shabab often carries out deadly bombings in Mogadishu against high-profile targets such as hotels and checkpoints.
Most of the victims Sunday were civilians.
The exact target of the blast remained unclear. The blast occurred amid a traffic jam while soldiers were searching cars at a nearby intersection.
Somalia's Prime Minister Hassan Ali Khaire said no such blast had occurred in the capital for a month.
At the blast scene, rescue workers and civilians carried bloodied bodies and injured victims to hospitals.